Posted on April 27, 2017, by Travis Pulver
Great players make great plays. That is who they are, that is who they get paid to be, and that is why fans watch the game. They want to see greatness. They want to see the amazing, unbelievable, and incredible. They want to see the best of the best battle it out on the court until the best team is the one left standing.
At times, either team has appeared to be the best in the Chicago Bulls-Boston Celtics series and the Atlanta Hawks-Washington Wizards one. Chicago started off strong but appears to be fading without Rajon Rondo on the court. The best team in the Hawks-Wizards series appears to be whoever the home team is.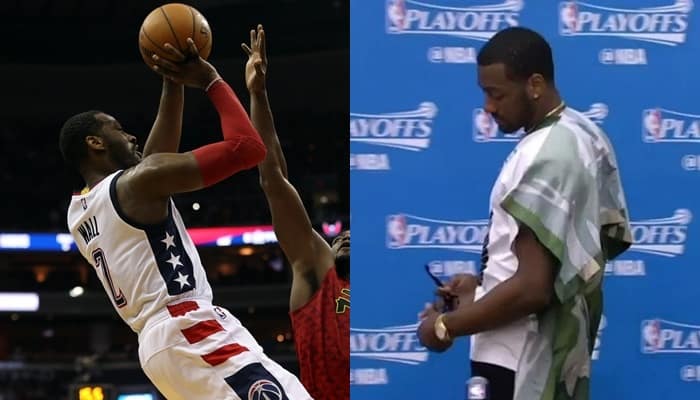 Sign up for a FREE Consultation to start working with Legendary Sports Bettor Jon Price
After Wednesday night's playoff action, two teams took a big step closer to making it clear who the better team is.
Atlanta Hawks 99 Washington Wizards 103
John Wall is usually known for making statements with his play on the court, but Wednesday night he made one before the game. Was it a fashion choice? Was he sending a message? Did his tailor have some extra fabric laying around? Only Wall knows for sure, but as far as the internet was concerned, it was pretty clear what he was wearing.
A cape.
NBATV's Isiah Thomas called it a dashiki, but to the internet, it was a cape. Yes, a camouflage cape.
If he was trying to be an undercover hero, it didn't work. Wall scored 20 points and recorded 14 assists, and Bradley Beal added another 27 points and five rebounds to lead the Wizards to a much-needed win at home over the Hawks.
It certainly wasn't an easy one. Atlanta got pretty good games out of their star players as well. Paul Millsap scored 21 points and had 11 rebounds, and Dennis Schroder chipped in 29 points and 11 assists. But Dwight Howard, who got into foul trouble, didn't do much with just five points and ten rebounds.
Howard's bad night almost didn't matter. Atlanta led after the first, 25-23, but then Washington took control of the game. The Wizards led by one at the half, 50-49 and by four, 83-79, entering the final quarter. They stretched the lead out to nine points early in the fourth but couldn't put the Hawks away.
Atlanta got within two points, 101-99, after Dennis Schroder hit a three-pointer with 1:09 left to play. But that ended up being the last basket for the Hawks. John Wall added on two more with the final basket of the game on Washington's next possession.
"It was right there," Schroder said after the game. "We've just got to be better in crunch time."
Washington will get a chance to close out the series Friday night in Atlanta at 7:30 PM ET.
Chicago Bulls 97 Boston Celtics 108
At one time, this series appeared to be well on its way to an 8-seed upset victory. The Bulls won the first two games with relative ease over the Celtics, and there was little reason to think the Celtics were going to get it together in time to salvage the series—at least, not without some help.
Sure enough, the Celtics got that help when Rajon Rondo went down with an injury. The Bulls offense hasn't been the same ever since. Two wins later, the Celtics entered Game Five with the series tied and confident they could win.
Chicago would not make it easy on Boston of course. After the two teams had battled to a 52-50 score at the half, with Boston in the lead, the Bulls took charge in the third. With a three-pointer at the buzzer by Jimmy Butler, Chicago entered the final quarter up by two, 81-79.
But then the Bulls seemed to forget how to make a shot.
The game remained close a couple minutes into the fourth quarter, but then the Bulls picked a terrible time to go cold. Boston took advantage and went on a 20-5 run effectively turning a close game into a more lopsided affair.
Chicago scored only 16 in the final quarter. Boston had 29 and secured their third win in a row in the process.
Isaiah Thomas had 24 points but the more impressive night came from another Celtics guard, Avery Bradley. Like Thomas, he had 24 points, but he impressed more with his defense.
"Everyone knows he's a good defender. Tonight, he got his offensive game going," Chicago's Dwyane Wade said after the game. "You expect him to do what he does defensively, but we gave up 24 points to him tonight. He hurt us offensively tonight more than anything."
Boston will get a chance to eliminate Chicago in the Windy City Friday night at 8 PM ET on ESPN.