Posted on January 5, 2017, by Travis Pulver
At one time, it looked like this was going to be a truly magical season for the Detroit Lions. Despite the lack of a running game, the offense was looking good, the defense was playing well, and the team was finding ways to win games late. When they were 9-4, it looked like they were going to break the streak and win the division title for the first time since 1993.
But then the worst thing that could happen to a team that lives and dies by its passing game happened—their quarterback, Matthew Stafford, suffered an injury to his throwing hand.  With an injured quarterback leading the charge, they went on to lose their last three, lost the division to the Green Bay Packers, but limped into the postseason as a wild card.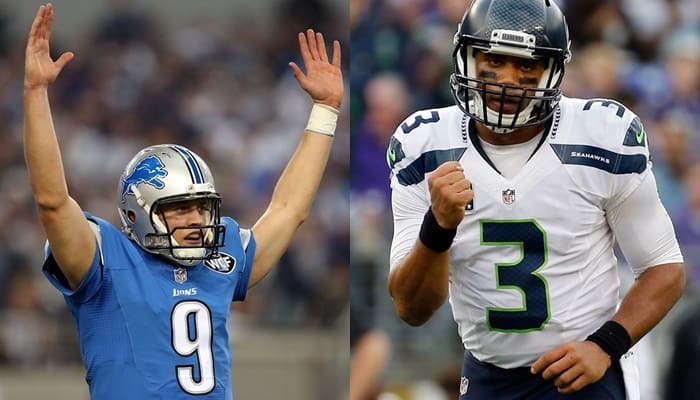 Sign up for a FREE Consultation to start working with Legendary Sports Bettor Jon Price
However, while the division title dream died with the loss to the Packers New Year's Day, there is one dream that remains alive. They can win their first road playoff game since 1957, a 31-27 victory over the San Francisco 49ers.
How the game played out then is a lot like how many of them played out this season for the Lions. They fell behind big (20 points in the third quarter), but managed to go on a late-game tear and outscored the 49ers 24-0 to end the game.
If that is how Saturday's game plays out, the Lions are well equipped for it having come from behind in eight of nine wins this season. There best chance is likely to hope they can keep it close and for some late game heroics to pull it out for them yet again.
Against last year's Seattle Seahawks, there is little to no chance that would happen. But this year's Seahawks are different—and not in a good way.
Typically, the Seahawks stumble out of the gate, but by midseason, they get it figured out, cruise through the second half of the schedule and are ready to roll in the playoffs—but not this year. They did stumble out of the gate, but instead of getting it together down the stretch they lost three of their last six.
So—what's wrong with Seattle? Russell Wilson's injury issues certainly didn't help during the first half of the season. With Marshawn Lynch retired and Thomas Rawls injured, the Seahawks did not have a running game they felt they could count on all season. After rushing for 100+ yards in all but nine games from 2012 to 2015, they failed to clear the 100-yard mark in ten games this season (ESPN).
But the biggest issue was the loss of hard-hitting safety Earl Thomas. With him in the line-up, opposing quarterbacks were held to a rating of 77.8. Without him, the rating was much higher—99.5. But what does that mean in the big picture? After being one of the highest ranked pass defenses the last few years, they finished eighth during the regular season this year.
If Detroit is going to win, they are going to need to take advantage of Seattle's weakness against the pass. Stafford certainly has the tools at his disposal to do just that. The emergence of fullback Zach Zenner in the running game should help take a little pressure off Stafford to get it down in the passing game.
Should Zenner find room to run and Stafford connect with his receivers early on, the Seahawks could be in trouble.
That is unless Wilson can connect with his receivers. Against the Detroit pass defense, that shouldn't be too hard. The Lions allow opposing quarterbacks to complete 72.7 percent of their pass attempts which could mean the Lions are going to be in for a heavy dose of 265-pound tight end Jimmy Graham and Doug Baldwin.
Wilson already completes nearly three of every four passes he throws their way. If it is going to be even easier to complete passes, then Wilson's top two targets will likely be in for a busy day.
When it comes down to it, an argument could be made for both teams blowing out the other. While that would be entertaining for their respective fan bases, it could also mean something every fan can enjoy—a close, hard-fought game with a ton of scoring.