Posted on October 13, 2016, by Travis Pulver
High school and college teams talk about it all the time; how if they could only win this one particular game it wouldn't matter how the rest of the season goes. If they win this one, the season would be a success. All they need to do is beat their rival to call the season a good one. They just need to win that one game.
For the Tennessee Volunteers that game would be the Third Saturday in October.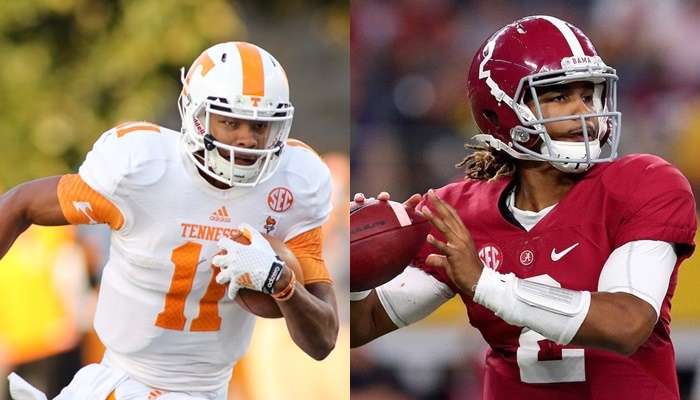 Sign up for a FREE Consultation to start working with Legendary Sports Bettor Jon Price
Okay—so the name doesn't have the same kind of ring to it as the Backyard Brawl, Civil War, Clean, Old-Fashioned Hate, Bedlam Series, Red River Shootout, or Iron Bowl. But the rivalry between the Alabama Crimson Tide and Tennessee Volunteers is one of the oldest in college football.
The two first played back in 1901. Since then have played 98 times making this Saturday's contest No. 99. Alabama holds the series lead (53-37-8) and hasn't lost to Tennessee in a very long time–over 3600 days.
The last Volunteers win came on October 21, 2006. Tennessee entered the game ranked No. 7 in the nation and with just a single loss on their record. Alabama had three losses already and wasn't ranked. Nick Saban was still coaching the Miami Dolphins and had just lost his third in a row and sixth of the season.
So yeah—it was a really long time ago.
Tennessee back then was not too unlike the current team. It did all it could to lose the game that day, but in the end, saw Arian Foster come to the rescue. While he only had 34 yards on 11 carries, his one-yard touchdown plunge with 3:28 on the clock gave the Volunteers a 16-13 lead (and the win).
The Reign of terror orchestrated by Nick Saban began the following year, and with the 2009 season (a 12-10 Alabama win), Tennessee has lost the game by anywhere from 14-35 points. That is, until last season.
For the first time in close to a decade, the game was competitive and saw the Volunteers take the lead with 5:49 left in the fourth quarter after a Jalen Hurd 12-yard touchdown run gave Tennessee a 14-13 lead. But Derrick Henry recaptured the lead for Alabama with a 14-yard touchdown run of his own a few minutes later to give Alabama the lead, 19-14, for good.
Tennessee would go on to win its next 11 games only to see the streak brought to an end by Texas A&M the week before they play Alabama. So—is there any chance they start a new streak with a win over Alabama?
Slim—but yes.
Scoring against Alabama is not going to be easy, but Arkansas proved it can be done. If Razorbacks quarterback Austin Allen can throw for over 400 yards against Alabama, it's not hard to imagine Joshua Dobbs doing it. The Razorbacks couldn't run the ball, but the Volunteers have better running backs in Jalen Hurd (who is expected to play after missing last week) and Alvin Kamara. Maybe they will be able to.
However, what will be more important than establishing a running game will be the turnovers. Tennessee has 16 turnovers on the season (eight interceptions, eight fumbles). Only Kansas (17), Duke (18), and Bowling Green (19) have more. Against the Aggies, they had seven. It doesn't matter if your offense generates well over 600 yards of offense when you give the ball away that often (NCAA).
Against a team like Alabama, you can't afford to make scoring easier. Jalen Hurts may be a freshman that will make freshman mistakes, but he is talented enough and has enough talent surrounding him to take advantage of turnovers.
Not only can Alabama's offense get the job done, but the defense can as well. The Crimson Tide lead the nation with seven defensive touchdowns this season (four from fumble returns; three interception returns).
Tennessee will be able to move the ball against Alabama, but they can't make mistakes or commit turnovers and expect to win. If they get off to a slow start as they have in many games this season, they don't stand a chance. If they commit seven turnovers again—this will get ugly.
Alabama is almost as good at running the ball as passing it, so the best the Tennessee defense can hope for is to slow them down and stop the Crimson Tide offense a couple of times. Should they be able to do so and keep from turning the ball over themselves, Tennessee may be able to pull off the upset.
Maybe.