Posted on November 6, 2016, by Travis Pulver
LSU's best chance to get the upset win over Alabama required the Tigers to do two things—keep it close and don't make any mistakes. When the game went into the fourth quarter with neither team having scored yet, it was evident they had succeeded in keeping the game close with few (if any) mistakes committed by either side.
While doing those two things would give the Tigers the best chance to win, they still had to do one crucial thing—generate some offense. In the few games the team had played under head coach Ed Orgeron, the offense had been very productive. But they had not played a defense even remotely as good as Alabama's.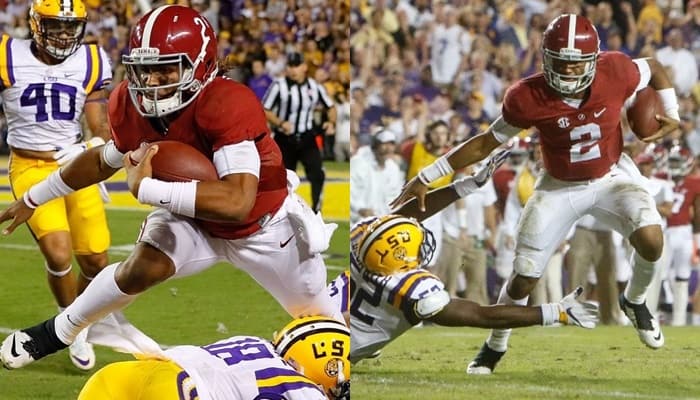 Sign up for a FREE Consultation to start working with Legendary Sports Bettor Jon Price
Could they get it done against the Crimson Tide? Would Leonard Fournette be able to do to Alabama's front seven what he has done to everyone else's?
No.
Much like last year when they held him to 31-yards and a touchdown on 19 carries, the Alabama defense didn't give Fournette much room to work with this year either (17 carries, 35 yards). But Alabama's defense did so much more than just control Fournette. They held the LSU offense to just 125 total yards and six first downs—and only 25 yards and a single first down in the second half!
LSU's defense didn't make it easy on Alabama. The Tigers defense held the Crimson Tide to just 120 yards of offense in the first half and only five first downs. They even intercepted Alabama quarterback Jalen Hurts on the third play of the game, but the offense was unable to move the ball, and the 49-yard field goal attempt was blocked.
Alabama got a drive going in the second quarter, but it eventually stalled, and they tried a 42-yard field goal—and missed. For the first time since 2007, Alabama was held scoreless in the first half of a game.
At the end of the first half, LSU had to like what it had done with Alabama's freshman quarterback, Jalen Hurts, was 5-13 for 27 yards and an interception. A dangerous runner, he was limited to just 42 yards. The game plan as it pertained to containing Hurts was working—but could it continue to do so in the second half?
Yes—and no.
Hurts got the Alabama offense moving after an LSU fumble but failed to score after getting into position with a first and goal from the eight-yard line. The LSU defense got a boost of confidence when Alabama decided to go for a touchdown on fourth and goal from the one in a scoreless game (not Lane Kiffin's smartest decision) only to see Jalen Hurts stuffed for a five-yard loss.
The defensive struggle continued till late in the quarter when Alabama capped off a 12-play drive that started at their own ten-yard line with a 21-yard run by Hurts for the game's only touchdown—but the six-minute drive wasn't the final straw.
After the defense had intercepted Danny Etling around midfield, Hurts guided the Alabama offense on a 15-play, 50-yard drive that took most of the time remaining in the game. LSU's defense stopped from scoring another touchdown, but a field goal was enough to put the Crimson Tide up by two scores, 10-0.
It ended up being the sixth straight win for Alabama over LSU and the 16th time in school history the Tigers were held scoreless (third time at home by Alabama). Alabama won its 21st consecutive game and 13th over a top-25 team (NCAA) and became the first team since 1983 to win against four straight ranked opponents.
The College Football Playoff committee made it clear when they announced their first poll how important they felt the strength of schedule is. LSU could have made an incredible statement by defeating Alabama—but instead, Alabama made the statement.
You may be able to slow us down, you may be able to contain us, but you certainly can't stop us. Hope the rest of you don't mind playing for No. 2.