Posted on October 26, 2016, by Travis Pulver
West Virginia has been one of those teams since 2002. You know the ones—good, but not great. They are exciting to watch, but when push comes to shove and the competition gets real they don't measure up. Except for the 2013 season, they have finished with winning records (four with 10+ wins) and ranked in the top 25 six times.
But they have never as good as they do this season, and some are starting to believe that this could be the year the Mountaineers step onto the national stage like never before. They may be No. 10 in the nation now, but with each passing week (and win) they climb higher.
Sign up for a FREE Consultation to start working with Legendary Sports Bettor Jon Price
The Oklahoma State Cowboys would love to be the reason the dream comes crashing down—and they have the tools to do so. Their quarterback, Mason Rudolph, is one of the most prolific passers in the country (10th; 322.7 yards/game) and doesn't make many mistakes. This season he has only thrown two interceptions.
If a defense tries too hard to take Rudolph out of the game they run the risk of freshman running back Justice Hill running amok. In the three games he carried the ball at least 20 times, he rushed for over 120 yards in each and scored a touchdown. He had a career-best the last time out with 162 yards and a touchdown (against Kansas).
The Cowboys offense is good enough to have them in contention, but their defense hasn't held up its end. While the loss to Central Michigan was due to a play that never should have been, the game should have never been that close. But when you give up 448 yards a game and 27 points, games that shouldn't be close are going to be close.
If the Cowboys defense gives West Virginia an opening, Mountaineers head coach Dana Holgorsen has a team more than capable of exploiting it. Quarterback Skyler Howard's accuracy has improved dramatically in his senior season jumping from 54.8 percent last year to 66.5 percent—which has made him one of the most prolific passers in college football as well (15th; 303.5 yards/game).
Like the Cowboys, the WVU offense is not a one trick pony—but their running game is a lot better than Oklahoma State. Led by senior running back Rushell Shell and junior Justin Crawford, the nation's No. 37 rushing attack is averaging 4.8 yards a carry and over 200 yards a game.
The winning team will be decided by which defense can do a better job—and if history is any indication, it is easier to see West Virginia shutting down Oklahoma State (or at least slowing them down). Last week they limited TCU, the nation's No. 16 offense, to just 300 total yards and 10 points. The week before they limited the best offense in the land, Texas Tech, to just 379 yards (they average 640) and 17 points (2nd in points with 50.3/game).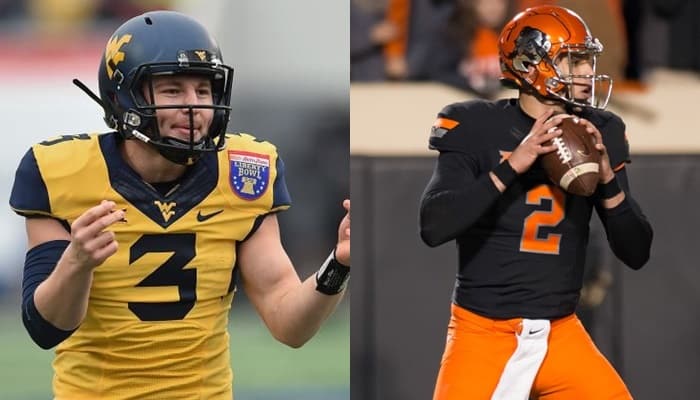 Oklahoma State's toughest victory to date was probably Texas—yes, Texas.
Cowboys head coach Mike Gundy would love to get his 100th win Saturday against a pair of his former assistants (WVU head coach Dana Holgorsen and his offensive coordinator Joe Wickline once served on Gundy's staff), but it will probably not happen.
His team will hang with West Virginia during the first half but expect the Mountaineers to blow it wide open in the second.