Posted on November 17, 2016, by Travis Pulver
TCU came into this season with high hopes, but an inconsistent offense and a defense that was not quite ready for prime time has TCU still fighting to become bowl eligible as the team heads into this week's contest against Oklahoma State with a 5-4 record. Oklahoma State, on the other hand, should be 9-1 and be contending for a spot in the playoffs. But instead, they are 8-2 and hoping they can turn next week's Oklahoma game into the unofficial conference title game. First, they must get past those pesky Horned Frogs.
TCU doesn't have the playmakers that it had last year, but the team still has some talent on the roster. Quarterback Kenny Hill can play but has been just as inconsistent at TCU as he was for Texas A&M. However, he has been consistent enough for TCU to have one of the best passing attacks in the nation (No. 16). When combined with the team's decent running game (No. 44), it gives the Horned Frogs the No. 12 offense in the nation.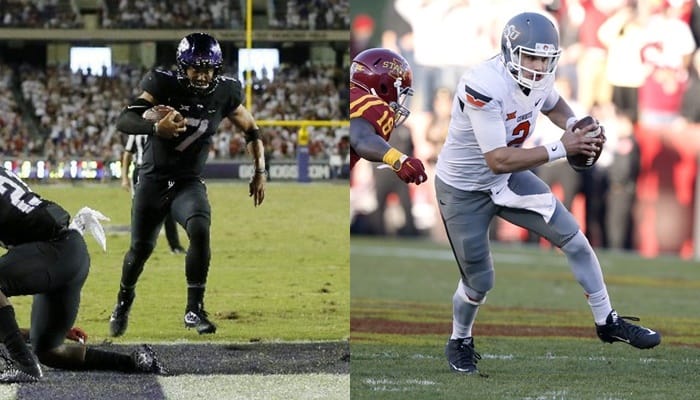 Sign up for a FREE Consultation to start working with Legendary Sports Bettor Jon Price
The problem they've had is one the team has not had in years—stopping opposing offenses. Two years ago, TCU had one of the best defenses in the country (No. 18). Last year it became more of a middle of the road type unit (but still good; No. 63). After a rough start to the season, it's improved to become a middle of the road type defense again (No. 63; better against the run but worse against the pass).
Oklahoma State is not going to be an easy offense to stop. Mason Rudolph is one of the better passers in the country and has a nice collection of talented receivers to throw to led by junior James Washington (56 receptions, 1132 yards, nine touchdowns. But much like TCU, while the Cowboys have a good running back in freshman Justice Hill (TCU's running back is Kyle Hicks).
However, TCU shut down an excellent Baylor offense that had more weapons than Oklahoma State does and the Cowboys lost to Baylor 35-24 back in Week Four. TCU shouldn't have much trouble getting their offense going against one of the worst defenses in the country (No. 103).
It's safe to say it will not be an easy one for TCU to win, but it's a challenge that safety Nick Orr says the team is excited for:
"We're excited about the challenges," Orr told reporters. "We know we've got some tough teams in the next three games and we're trying to become bowl-eligible. We know it's going to be a tough task, but I feel like we can get it done."
It's a good thing they like challenges since that is all they have for the rest of the season. Next week they will have the unenviable task of slowing down Texas running back D'Onta Foreman in Austin and then close the regular season against a tough Kansas State team.
For Oklahoma State, the stakes could potentially be very high. Should they beat TCU, they will likely climb a few spots in the next CFB Playoff Committee's poll. Should they then beat Oklahoma to close the regular season, their resume will be good, but they will need there to be some more drama among the current top contenders if they are going to slip in.
It's a long shot—but a shot nonetheless.