Posted on October 27, 2016, by Travis Pulver
At one time, the Michigan State Spartans appeared to be one of the better teams in the nation. Following their second win of the season, a 36-28 victory over then-No. 18 Notre Dame, the Spartans were ranked No. 8 in the Coaches Poll and No. 12 in the AP. They were dropped from the rankings after their third loss and have lost five in a row.
It will take a minor miracle even to become bowl eligible, but there is one way the Spartans can still make this a "good" season.
Beat Michigan.
Sign up for a FREE Consultation to start working with Legendary Sports Bettor Jon Price
Beat your rival, and at the end of the season, there will be one thing you can sit back and feel good about, no matter how bad your record is. With a bowl game probably not in the cards for Michigan State, winning the Paul Bunyan Trophy for beating Michigan is their best, last chance at glory.
But can they win? Probably not—but if there is one thing college football fans know, it's that when it comes to playing the hated rival, teams find a way to play better than they have the entire season. Michigan State must do just that just to make this game competitive.
Somehow they are going to have to find a way to penetrate Michigan's top-ranked defense. So far this season the Wolverines are only giving up 207 yards a game—111 passing and 96 rushing–and just 10 points (No. 1 in both categories). Opposing offenses have only made it into the red zone against the Michigan defense six times this season—six times!
If the Spartans had one of the better offenses in college football or even an average one, an argument could be made for them possibly providing a challenge for the Wolverines defense. But the Spartans are the No. 84 offense in the nation this season with just 390 yards a game.
To be fair, Michigan State does have one of the better wide receivers in the Big Ten in R.J. Shelton (134.4 yards/game). Running back LJ Scott isn't half bad either, but the holes are going to be hard to come by, and the coverage is going to be tight.
Just in case gaining yards isn't going to be tough enough, the Spartans must deal with a Michigan offense that is averaging over 480 yards a game (No. 28) and averaging 48.7 points (No. 3).  Wilton Speight is not going to break any records, but he is not going to make many mistakes (if any) either (two interceptions in 182 pass attempts). He's got four guys with at least 43 carries averaging at least 5.2 yards a carry to hand the ball off to.
The Spartans can't count on pressuring Speight; they have recorded only seven sacks all season. They can't rely on their secondary to bail them out either. Opponents are completing 63.1 percent of their passes against them. Chris Evans, Michigan's leading rusher is questionable with a concussion, but even if he doesn't play the Spartans will have a hard time stopping De'Veon Smith, Karan Higdon, or Ty Isaac.
Then there will also be the occasional Jabrill Peppers play Michigan will throw at the Spartans. So—does Michigan State have a prayer and if so, how in the world can they pull off the upset?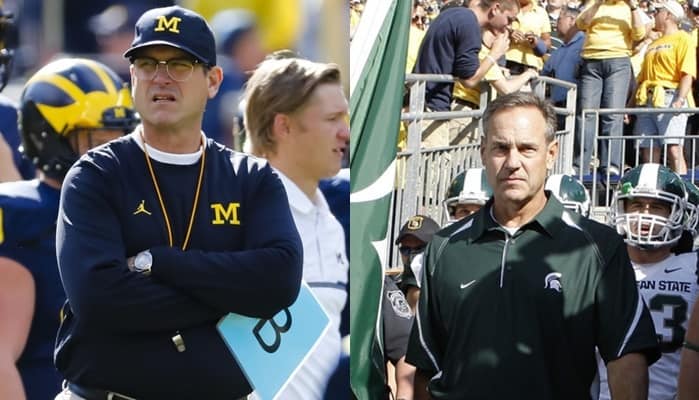 Michigan will be looking to make sure a fluke play can't cost them the game like it did last year. The seniors will also want to beat the Spartans for the first time in their careers—which may be the only edge the Spartans have.
If they can experience some early success, maybe break a few big plays, and get out to an early lead, they might be able to get inside the heads of the Wolverines and take them off their game. If they can, this one might actually be competitive. They could even win, and how great would it be to derail Michigan's national title hopes?
It would be great–but Spartans fans shouldn't count on it.