Posted on October 18, 2016, by Travis Pulver
On paper, Saturday's game between the No. 6 Texas A&M Aggies and No. 1 Alabama Crimson Tide appears like it could be an excellent game. Both come into the game undefeated. Texas A&M generates more offense than Alabama (532.8 yards/game to 504.7 yards/game). But the Crimson Tide are better at keeping opponents out of the end zone. Their defense is giving up just 15 points/game while the Aggies are giving up 19.2 points/game.
With the stats so close, you would think that the experts would look at this game as potentially being a close one. Both have high-powered offenses and solid defenses so theoretically fans should have a good game to look forward to.
But the odds makers have made Alabama an 18-point favorite. So they are expecting this game to be a blowout.
Sign up for a FREE Consultation to start working with Legendary Sports Bettor Jon Price
Texas A&M fans will find the point spread disrespectful, but Alabama beat them by 18 last season and shut them out 59-0 the year before. The Aggies may have won in 2012 and lost by only seven the following year, but they were destroyed in the last two.
Of course, one of the joys of college football is that dramatic reversals of fortune are possible as teams lose players and have to replace them. So—have the Aggies made enough changes to be competitive this season or maybe even win?
Last season, Alabama didn't pass much (Jake Coker was 19-25 for 138 yards). Could they have passed or more? Probably—but they didn't need to because Derrick Henry ran all over the Aggies defense (32 carries for 236 yards). Texas A&M, on the other hand, couldn't buy a running game (32 net yards) and quarterback Kyle Allen threw more touchdown passes to Alabama players (three) than he did to his own (one).
Theoretically, you could make an argument that if Kyle Allen hadn't thrown three pick-6's, the Aggies would have been in the game. Would it have made a difference? Who knows. Maybe Lane Kiffin would have been more aggressive; maybe he would have been satisfied with controlling the game like they did.
But that was then, and this is now.
This season, Texas A&M is one of the best running teams in the nation. With a new quarterback, Trevor Knight, and freshman running back Trayveon Williams leading the way, the Aggies are averaging 274 yards a game on the ground. Their offensive line is young, but it has performed well so far this season.
But can they do it against the best run defense in the country? Alabama has allowed just 64 yards a game this season and only two yards a carry. They are big and athletic; just as capable of overpowering you as they are at running you down. They are not known for missing too many tackles either.
As good as the A&M run game is, the Aggies are going to need to figure out how to get the Alabama defense not to crowd the line or stack the box against them. That means they are going to have to throw the ball downfield—and actually complete a few passes.
Trevor Knight is capable of throwing downfield, and he certainly has some great weapons in Josh Reynolds and Christian Kirk, but his accuracy leaves something to be desired. If they can connect on a few—which they might since Alabama does give up 210 yards passing a game—they may give the running game the room it needs to succeed.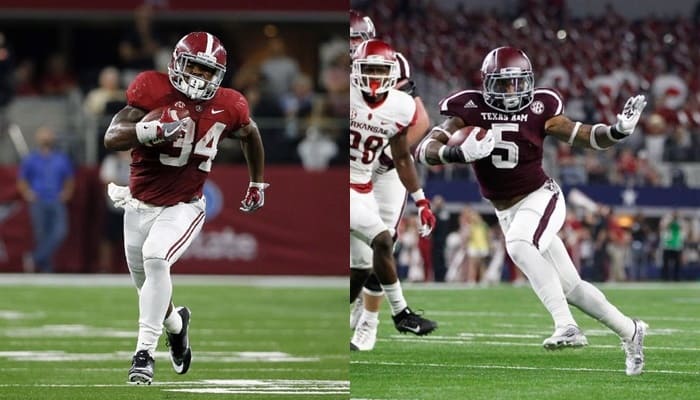 They will certainly need it to since that will be the best way to keep the Alabama offense off the field. Yes, Texas A&M's defense is much better than it was last year, but it is still vulnerable to big plays—which Alabama will certainly look to break on any given down.
It is not going to be easy for Texas A&M to pull off the upset, but there is hope for the Aggies. With the way Chad Kelly carved up the Alabama secondary for 421 yards and Austin Allen, a first-year starter Austin Allen gouged them for 400 there is no reason to think Knight can't do the same. Heck, he already torched one Alabama secondary in the 2014 Sugar Bowl. What's one more?
Should Knight get off on the right track, minimize the mistakes, the offensive line wins the battle in the trenches, and A&M scores some points, the Aggies will make a game of it.
Whatever Knight and the offense do accomplish will mean little if the defense can't do its part and contain Jalen Hurts and Damien Harris. If Texas A&M cannot contain Alabama's running game, the Aggies don't stand a chance.
Texas A&M has to get off on the right foot, control the tempo of the game, and not give Alabama any help—no defensive or special teams touchdowns! If they can do that and keep from having to react to what Alabama does, they might have an outside shot at surprising the college football loving world.
They just might take down the mighty Crimson Tide.
Maybe.