Posted on October 30, 2016, by Travis Pulver
This has not been a good season for Charlie Strong and his Texas Longhorns. After shocking the world by beating Notre Dame in the season opener, they beat UTEP and then lost three in a row and four of their last five to fall to 3-4. Strong demoted his defensive coordinator, but that hasn't stopped many fans from calling for his job.
But there is one thing that could get the haters to back off for at least a week—beat Baylor. Take the Bears down and ruin their national title hopes—and they did.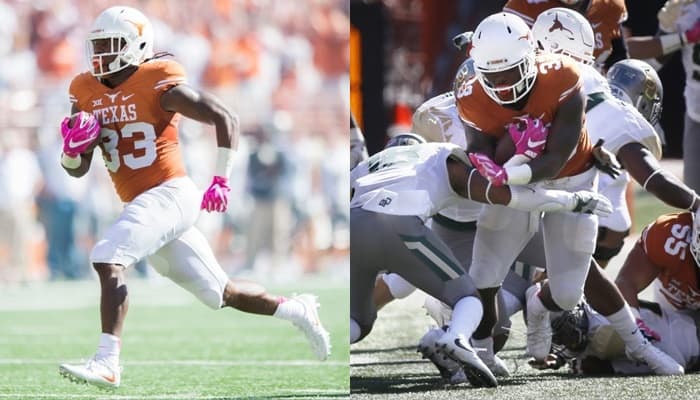 Sign up for a FREE Consultation to start working with Legendary Sports Bettor Jon Price
Baylor has been in the hunt in each of the last three seasons. They started off well but ended up seeing their hopes dashed with a late season loss. In 2013, it was a November 23 loss to Oklahoma State that did it (they were 9-0). The following season they entered the October 18 game against West Virginia with a 6-0 record only to lose. Last year, they were 8-0 when they faced off against Oklahoma on November 14 (and lost).
Maybe with a new head coach calling the shots they could change their fortunes and win a late season game—unless they don't.
Texas did what you need to do against a high-powered offense like Baylor—play good enough defense to mess them up occasionally, let them kill themselves with stupid mistakes, and run the ball as much as humanly possible.
The Longhorns certainly did run the ball as much as they could—or at least as much as D'Onta Foreman could. The junior running back was an absolute beast the Baylor defense had no interest in tackling—and often didn't. By the time his day was done, he carried the ball 32 times for 250 yards and a pair of touchdowns.
If he didn't need the occasional rest for a few plays he probably could have cracked 300 yards.
While it may seem strange to say since the Texas defense gave up over 600 yards of offense on 96 plays (398 on the ground), the defense came up big for the Longhorns when they needed it most. After giving up two early touchdowns, the Texas defense intercepted Russell once, forced a fumble, recorded a safety (thanks to a holding penalty), and kept Baylor from getting back into the end zone until late in the first half.
In the second half, the Texas defense relied on the "bend but don't break" philosophy. They only gave up one more touchdown to the Bears (on their first drive of the half) and held them to two field goals on drives that stalled at the Texas 10-yard line and six-yard line. Another potential scoring drive was killed when the Longhorns forced a fumble at the Texas 12-yard line.
Baylor returned the favor (sort of) when they denied Texas' two-point conversion attempt to maintain a 34-32 lead, but they couldn't score on their next drive and had to punt the ball back to Texas.
As much as Baylor lives by the big play themselves, they often die by the big play as well—and that was the case late in the game against Texas. With a little over two minutes to play and Texas with the ball at their own 36-yard line, Longhorns quarterback Shane Buechele connected with Armanti Foreman for 38-yards.
Since they were now in field goal range, the Longhorns bled as much time off the clock as they could before kicking the go-ahead field goal to make the final score 35-34.
Baylor could still climb back into the conference title hunt but must beat Oklahoma (as well as everyone else left on their schedule) and hope that Oklahoma State can also beat the Sooners. They will try to get back on the right side of the scoreboard next week against TCU.
The win will help keep the haters at bay for the next week, but to hold them off for another week they will need the defense to play even better against Texas Tech next weekend.