Posted on March 24, 2020, by Bryan Zarpentine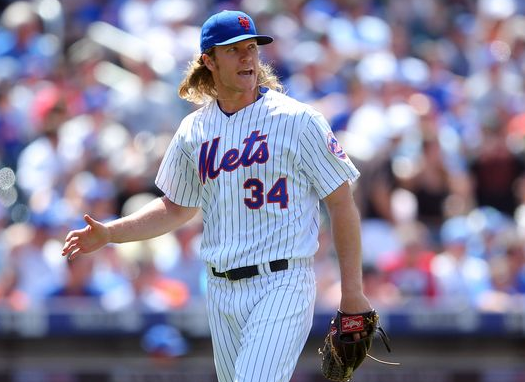 The New York Mets are no strangers to injuries or setbacks. But they usually wait until the season starts to get hit by the injury bug. With the start of the MLB season still in limbo, the Mets announced Tuesday that starter Noah Syndergaard will undergo Tommy John surgery, ending his season before it can begin. The surgery will force Syndergaard to sit out all of 2020 and likely miss the first half of the 2021 season as well.
The 27-year-old Syndergaard began experiencing elbow discomfort early in spring training, ultimately making three exhibition game appearances. When spring training was suspended due to the coronavirus pandemic, he continued to have elbow pain and remained in contact with the team's medical staff. Syndergaard ended up getting an MRI that revealed a tear of the ulnar collateral ligament in his right elbow. He will have surgery on Thursday and then begin a rehab process that typically lasts over a year.
"Noah is an incredibly hard worker and a tremendous talent," Mets GM Brodie Van Wagenen said in a statement. "While this is unfortunate, we have no doubt that Noah will be able to return to full strength and continue to be an integral part of our Championship pursuits in the future."
Syndergaard is no stranger to injuries. He was limited to just seven starts in 2017 because of a lat injury. He's also had three separate stints on the IL over the past two seasons. Nevertheless, Syndergaard was healthy enough to make 32 starts for the Mets last season. However, his performance was up and down, going 10-8 with a 4.28 ERA, which nearly a full run higher than his career ERA of 3.31.
That being said, losing Syndergaard for the season is a huge blow to the Mets. At his best, Syndergaard can look like one of the best pitchers in baseball. He's a frontline starter who the Mets were counting on to serve as their no. 2 starter behind ace Jacob deGrom.
Replacing a pitcher of his caliber is not something that any team is prepared to do. The silver lining is that the Mets began spring training with six proven starters in their rotation after signing both Michael Wacha and Rick Porcello this winter. There was some competition for the final spots in New York's rotation, but now Wacha and Porcello will be locks along with deGrom, Marcus Stroman, and Steven Matz.
As for Syndergaard, the timing of the injury puts his career at a crossroads. He's likely to remain sidelined until midway through the 2021 season, which is his final year of arbitration before free agency. Before the injury, Syndergaard was poised for a big payday when he hit the open market. However, he will now have just half a season to prove to teams that he's healthy following the surgery before entering the free-agent market.
For the Mets, the good news is that losing Syndergaard isn't a dealbreaker for their 2020 season. They still have five quality, proven starters who will give them a chance to have one of the best rotations in baseball. However, there's no denying that losing Syndergaard is a meaningful setback. The Mets have somewhat questionable beyond the five starters that remain. More importantly, they are losing a pitcher with the talent to be among the best in baseball. The Mets still have a chance to be a contender in the NL East, but their chances to win the World Series in 2020 got a little longer.