Oakland Alameda Coliseum

Oakland Athletics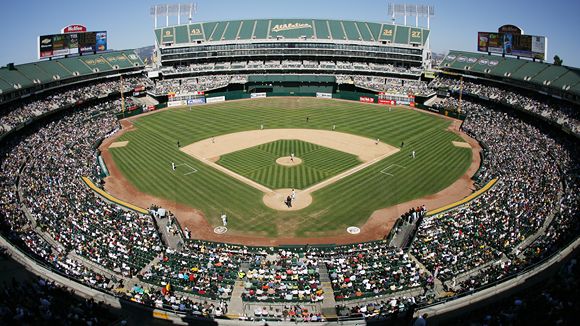 About Stadium
A multi-purpose facility built in the Oakland area of California, the Oakland Alameda Coliseum serves as home to Major League Baseball's Oakland Athletics.
In addition to serving as the home field for MLB's Oakland Athletics, the field also serves as home for the NFL's Oakland Raiders football team.
The stadium is a main featured part of downtown Oakland's Oakland-Alameda County Coliseum Complex, which also features the Oracle Arena.
Sign up for a FREE Consultation to start working with Legendary Sports Bettor Jon Price
For baseball games the stadium has 2,700 of its 6,300 club seats available, as well as 125 of its 143 luxury suites.
• 7000 Coliseum Way
Oakland, California 94621
• Capacity: 35,067
• Opened: September 18, 1966
History
• One of the oldest stadiums still in use in Major League Baseball, the stadium's construction began on April 15, 1964.
• The first game played in the stadium was a football game for the Oakland Raiders on September 18, 1966, while the Athletics didn't play there until 1968.
• Funding for the stadium was reached in 1962 after the city of Oakland and Alameda County  approved $25 million in funds for the project.
• In 1965 the city made an effort to allure the Cleveland Indians to Oakland but was unsuccessful. They would later get the Kansas City Athletics to relocate to Oakland in 1968.
Oakland Athletics (MLB) (1968–present)
Oakland Raiders (AFL/NFL) (1966–1981, 1995–present)
Oakland Invaders (USFL) (1983–1985)
Oakland Clippers (NPSL/NASL) (1967–1968)
Oakland Stompers (NASL) (1978)
San Jose Earthquakes (MLS) (2008–2009)