Posted on July 21, 2016, by Travis Pulver
New York Giants wide receiver Odell Beckham Jr. is one of the best in the business. Yes, even though he is only going into his third season in the NFL, it is safe to say that he is one of the better wide receivers in the league.
Best? Not by a long shot—but don't tell him that. He might get mad at you. One of the potential problems, when a young player is as talented as he is and has the kind of individual success he has had is the ego. With so many people telling you how awesome you are, it can be easy to start acting like you are better than everyone else.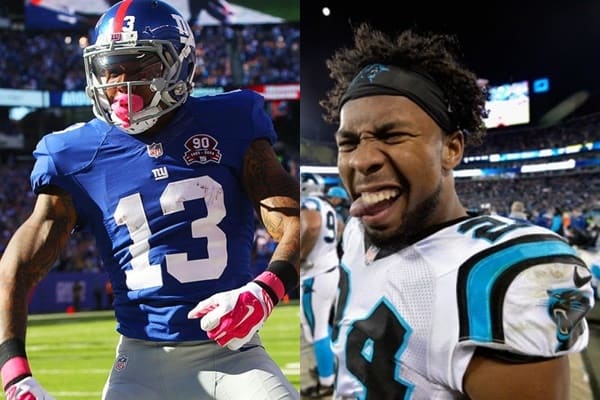 You might feel slighted if people just say your great instead of the greatest. You'll start to think the world revolves around you. Your ego—something every professional athlete has to an extent—can get out of control.
Sign up for a FREE Consultation to start working with Legendary Sports Bettor Jon Price
Odell Beckham Jr.'s ego is absolutely out of control.
The first real sign came when he responded to being named No. 10 on the NFL Network's Top 100. You would think that being chosen by his peers as the tenth best player in the league after just his second season would be a proud moment for him. You would think he would see it as the honor it is—but not OBJ. He took offense to it:
10? Hmm. #BuckleUp

— Odell Beckham Jr (@OBJ_3) July 7, 2016
Just in case the tweet was too cryptic, he posted a video to Instagram the morning of July 7 where he made it clear how he felt about being considered the tenth best player in the league:
"[It] is not good enough. I've got to do more. They don't want it like I want it. I got to have it."
There is nothing wrong with not being satisfied and having a strong, but to blow off the honor his peer gave him? As former wide receiver Chad Johnson would say—child, please.
But the ego hasn't stopped there.
He is saying that his nemesis, former Carolina Panthers defensive back Josh Norman, signed with the Washington Redskins to play him twice and stay relevant:
"If I wasn't playing him twice a year, maybe people wouldn't bring it up as much," he told GQ via Complex. "But now it'll be a lot more media attention for him, attention that I don't really look for, attention I don't really need. The reason that he's become so relevant is because of me."
What? Surely he is only saying that to get under Norman's skin—right? Surely he must realize that the $75 million over five years with $51 million guaranteed had a little more to do with where Norman signed.
OBJ's comments have to be all about playing mind games with Josh Norman. He can't possibly be that full of himself after just two years in the NFL.
Yes, they were two excellent years, but his team went 6-10 in each of them, so his efforts were virtually worthless. To be fair, he can't win games all by himself, but if he wants others to think he is as great as he thinks he is, it might be good if his team at least finished the season with a winning record.
Until they do, he'll need to keep taking cheap shots at Josh Norman and making one-handed grabs in warm-ups so that he can stay relevant.