Oriole Park at Camden Yards

Baltimore Orioles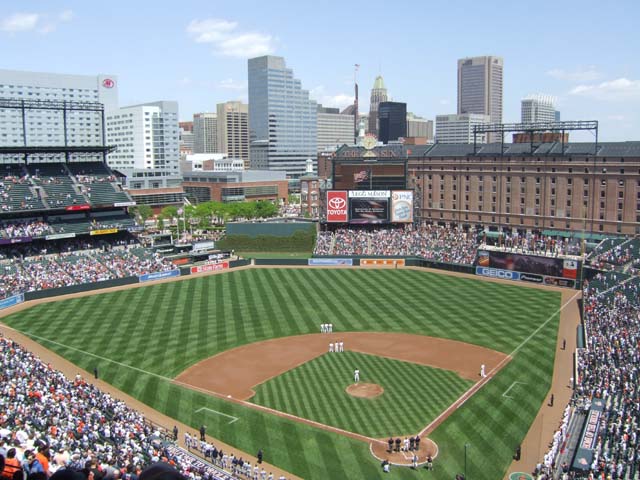 About Stadium
Commonly referred to as Camden Yards or simply, Oriole Park, it's a ballpark located in downtown Baltimore, maryland and serves as the home field for Major League Baseball's Baltimore Orioles.
Often considered to be the first retro-style ballpark of the modern era, Oriole Park at Camden Yards has inspired a number of other old-style parks since its construction.
The field is tucked up against an old B&O Warehouse which towers over the right field area and is now filled with offices and private club spaces.
Sign up for a FREE Consultation to start working with Legendary Sports Bettor Jon Price
Eutaw Street, the street that sits between the field and the warehouse has been hit a few times with long home run balls which the Orioles organization marks with bronze plaques to commemorate each.
• 333 West Camden Street
Baltimore, Maryland 21201
• Opened: April 6, 1992
• Capacity: 45,971
History
• Construction of the stadium took just under 3 years with ground broken on the project on June 28, 1989 and the stadium being opened on April 6, 1992.
• Renovations have been made throughout the stadium's history including new HD video display screens in 2008, and a new sound system added in 2009.
• Cal Ripken Jr. set his 2,131 Iron Man Streak at the stadium on September 6, 1992, and Eddie Murray hit his 500th home run at the park one year later.
• Ken Griffey Jr. became the first person to ever hit the warehouse with a home run during the 1993 All-Star Game Home Run Derby contest.
Current and Past Teams
Baltimore Orioles (MLB) (1992–present)