Paul Brown Stadium
Cincinnati Bengals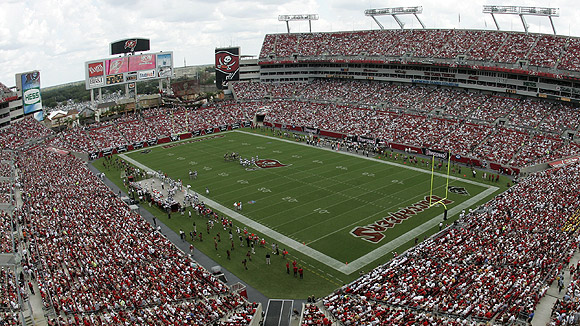 About Stadium
Located in Cincinnati, Ohio, Paul Brown Stadium is the home field of the AFC North's Cincinnati Bengals in the National Football League. The stadiums wears the name of the Bengals' original founder, Paul Brown, and the stadium was opened on August 19, 2000.
The stadium is also commonly referred to as "The Jungle," which alludes to the name of the team, the Bengals, as well as to the Guns N' Roses song from the early 1990s, "Welcome to the Jungle," which is often played to stir the crown at the stadium.
In 1996, voters approved to help fund the construction of not only Paul Brown Stadium for the Bengals, but also a new stadium for Cincinatti's Major League Baseball team, the Reds.
Sign up for a FREE Consultation to start working with Legendary Sports Bettor Jon Price
In addition to being the home field of the Bengals, the stadium also serves as the administrative offices and training facility for the entire organization. Outside the stadium are three practice fields that are used for drills during the week.
There's 7,600 club seats in the stadium and a variety of options for other premium seating, including 114 private suites.
The playing surface has changed a number of times over the years, starting with Kentucky Bluegrass, then to FieldTurf, and changed again to Synthetic Turf in 2012, which the stadium still uses.
•Capacity: 65,515
•Opened: August 19, 2000
•Playing Surface: Synthetic Turf
•Location: 1 Paul Brown Stadium,
Cincinnati, Ohio 45202-3418
History
• The stadium was opened on August 19, 2000 when the Cincinnati Bengals played host to the Chicago Bears for an NFL preseason match-up which they won by a final score of 24-20.
• The first college football game played at the venue was on September 21, 2002 between the Cincinnati Bearcats and the defending national champion Ohio State Buckeyes. The game was a sellout which drew 66,319 fans for the event.
• On December 29, 2002, the Bengals' old home field, Cinergy Field was demolished to allow space for the construction of the new Paul Brown Stadium. The Bengals had lost all four playoff games ever played at Cinergy Field.
• In 2000, two LED video screens were installed at both end zones which gives every fan, regardless of seating, a clear view of the action, in addition to the 200 foot ribbon screen display along the side of the stadium.
Past and Current Teams
Cincinnati Bengals (NFL) (2000–present)
Cincinnati Bearcats (NCAA) (2014)