Posted on December 4, 2016, by Travis Pulver
When the news came down, the staff, players, and fans of the Penn State Nittany Lions had to be disappointed beyond belief that their team was being excluded from the College Football Playoffs. Surely, they deserved to be in more than a team they beat (Ohio State). Did the committee really think the Pac-12 champion, Washington, was better than them?
Some will call it crazy, but obviously, the answer is yes.
To be fair, in his explanation, CFP Committee chairman Kirby Hocutt made a very good point in regards to conference championships. Yes, they are hard to win, but the idea behind the committee is to pick the four best teams in college football. Many would argue that winning a conference championship proves the value of a team, but it doesn't.
Sign up for a FREE Consultation to start working with Legendary Sports Bettor Jon Price
It just proves the old saying that any team can win on any given day. How many times have we seen a conference title come down to one caught pass or one missed tackle or one turnover? Does making or missing that catch or tackle mean a team is better or worse than the other? Does one bad pass or careless fumble?
Of course, not. Those plays may be the difference between winning and losing for that game, but one play doesn't necessarily make one team better than another.
Hocutt went on to point out Penn State's early loss to Pitt and the shellacking the Nittany Lions received at the hand of Michigan (a 39-point loss). Valid points, and yes—they look bad.
But the team that lost those two games is not the same one that overcame a 21-point deficit to beat Wisconsin in the Big Ten title game. The committee has enough football-minded people on it that they should know that a team is not who they play at the beginning of a season.
The quality of a team is a fluid concept; one that evolves as a season progresses. That's why most teams have weak non-conference schedules. They don't want the imperfect, still-gelling version of their team to get beat so they schedule an opponent they can handle with their eyes closed.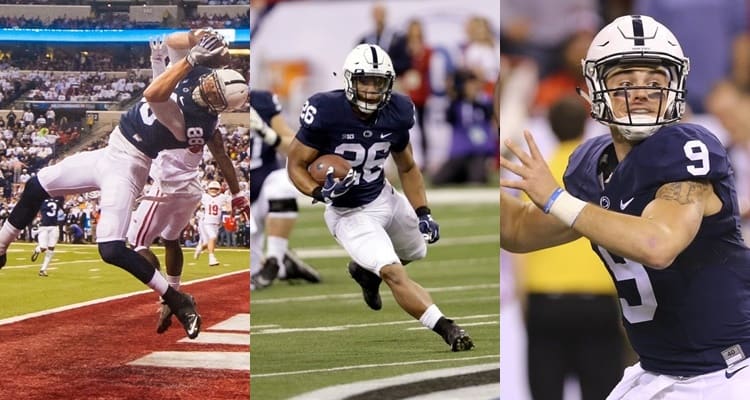 Apparently, the nine-game winning streak that included wins over No. 2 Ohio State, No. 21 Iowa, No. 23 Temple and the incredible win over No. 8 Wisconsin didn't impress the committee. But somehow Washington's "quality wins" over No. 16 Stanford, No. 11 Colorado, and two unranked teams in Utah and Washington State (current rankings) did.
Hmmm…four wins over ranked teams including two in the top ten versus two wins over ranked teams and two "good" unranked teams. The better choice would appear to be clear.
Yes—Washington has a better record at 12-1 with their one loss coming against a USC team that deserves the unofficial award for the most-improved team in college football this year. But how much value can you put on blowout wins over Rutgers, Idaho, and Portland State? Not that Penn State's losses should be acceptable, but at least they played competitive teams (except for Kent State).
An argument could be made against Ohio State's inclusion since they lost to Penn State, but with non-conference wins over Oklahoma and a good Tulsa team they've earned a slot. Should their season be judged just because of one blocked kick?
The obvious next step would be for an expansion of the playoffs—but it wouldn't solve anything. Yes, it would give the Penn State's a spot in the playoffs, but all it would succeed in doing is creating an argument for further expansion. There will always be someone with a legitimate argument for inclusion in the playoffs being left out.
College football is better off learning from James Franklin's example. He could have ripped the committee for screwing his team over and made a case for his team to be included, but instead he graciously accepted the news and a bid to the Rose Bowl against a very tough USC team.
It's not a shot at a national championship (next year Penn State), but it certainly isn't bad.