Petco Park

San Diego Padres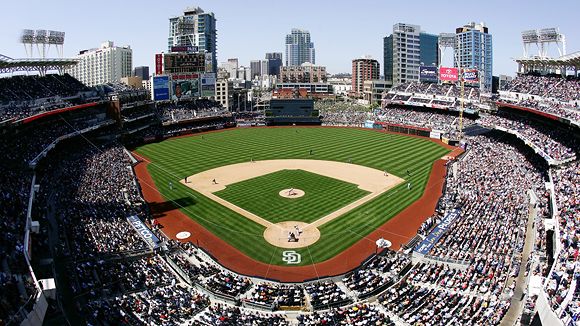 About Stadium
A multi=purpose venue located in downtown San Diego, Petco Park serves as the home field for Major League Baseball's San Diego Padres.
The venue is equally busy hosting other events outside of baseball, such as concerts, football games, golf, and even some rugby matches.
The Padres previously played at Jack Murphy Stadium but moved to their new home to open the 2004 MLB season.
Sign up for a FREE Consultation to start working with Legendary Sports Bettor Jon Price
The park is situated between 7th and 10th Avenues in downtown San Diego, and also was constructed right next to the light rail tracks which makes traveling to and from games easy for patrons.
• 19 Tony Gwynn Drive
San Diego, California 92101
• Opened: April 8, 2004
• Capacity: 40,162
History
• Construction for the stadium took a month short of four years as ground was broken on May 3, 2000 and the stadium was officially opened on April 8, 2004.
• The unofficial first game ever played at the park was on March 11, 2004 in a college baseball tournament hosted by the University of San Diego.
• The stadium hosted its first playoff game back on October 8, 2005 with the St. Louis Cardinals defeating the Padres by a score of 7-4 to finish the 3-game sweep of the series.
• Petco Park was the site of Barry Bonds hitting his 755th home run on August 4, 2007 which tied him with Hank Aaron's legendary home run record.
Current and Past Teams
San Diego Padres (MLB) (2004–present)
USA Sevens (IRB) (2007–2009)