Posted on February 28, 2019, by Bryan Zarpentine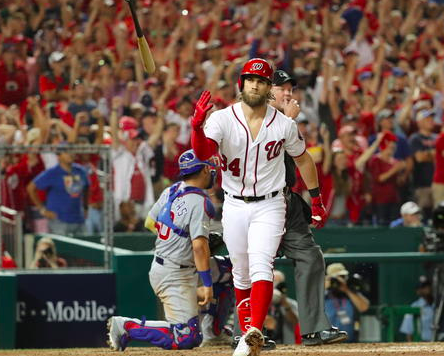 Well, it's all over. Bryce Harper, the biggest free agent baseball has had in a long time (perhaps ever), has finally made his choice. Thursday, Harper agreed to sign with the Philadelphia Phillies after the two sides agreed to a 13-year contract worth $330 million. The deal is worth a little over $25 million per season and tops the 13-year, $325 million deal Giancarlo Stanton received in 2014 as the richest contract in the history of professional sports. More importantly, it will make Harper a member of the Phillies through the 2031 season.
Harper's free agency turned into an epic saga that lasted all winter and into spring training. All along, he and agent Scott Boras set out to sign the biggest free agent contract ever, and they have accomplished just that. While some predicted Harper could receive up to $400 million in free agency, getting $330 million over 13 years is nothing to scoff at for the 26-year old.
The Phillies were easily the most persistent team in their pursuit of Harper. They were on him from the start of the offseason all the way to the end. Both the Giants and Dodgers were reportedly serious about their pursuit of Harper. In fact, many believed Harper preferred to head to one of the California teams rather than land in Philadelphia. However, a guarantee of 13 years appears to be too much for Harper to turn down, enabling the Phillies to get their man.
Sign up for a FREE Consultation to start working with Legendary Sports Bettor Jon Price
The addition of Harper caps off a busy offseason for the Phillies. The club has also worked out trades for all-star catcher J.T. Realmuto and shortstop Jean Segura. Via free agency, the Phillies have also brought in veteran outfielder Andrew McCutchen and reliever David Robertson. After remaining competitive in the NL East race into September last season, the Phillies are in a position to improve by leaps and bounds in 2019. It's not a stretch to say that they are now favorites to win the NL East and one of the most intriguing teams in all of baseball.
Of course, the next question is what the Phillies will do now that they have Harper. Philadelphia wasn't exactly hurting for an outfielder. They already have McCutchen, Nick Williams, Odubel Herrera, Aaron Altherr, and Roman Quinn in their outfield, not to mention promising youngsters Dylan Cozens and Cornelius Randolph. It would make sense for the Phillies to trade at least one of those outfielders rather than hide them on the bench. Harper will surely play every day, while Williams, Herrera, and McCutchen have all earned the right to garner regular playing time.
However it shakes out, the Phillies now have the likes of Harper, Realmuto, first baseman Rhys Hoskins, and third baseman Maikel Franco making up the middle of their order. That doesn't even include the likes of Segura and Cesar Hernandez as table setters or players like McCutchen and Williams providing quality depth. What looked like a formidable lineup previously is now one of the better lineups in the National League with Harper in the middle of everything.
Obviously, committing $330 million to one player is a big deal for the Phillies. However, they seem determined to score a big-time free agent this winter, and they did just that by luring Harper to the City of Brotherly Love. With Harper added to all the other pieces the Phillies have in place, they are poised to be a World Series contender in 2019 and for years to come. Expectations will be sky high for both Harper as an individual and the Phillies as a team. But the Phillies surely know that comes with the territory of signing a player to the largest contract in pro sports history.