Posted on September 7, 2016, by Travis Pulver
It's a happy week for NFL fans. The preseason is over, and it is time for their beloved game to return to them in all its glory. No more scrubs, no more second and third string players (as long as no one gets injured), and no more playing it safe.
It's time for the real deal. It's time for football.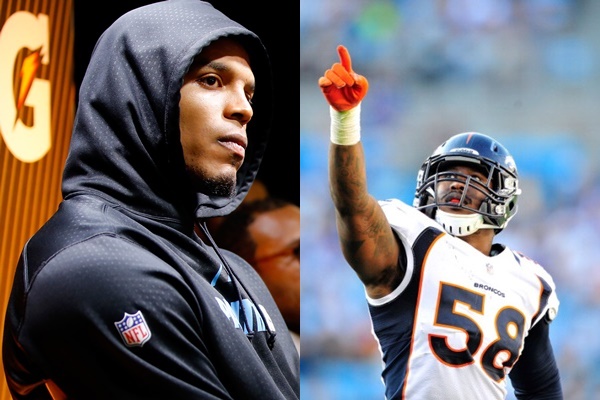 Sign up for a FREE Consultation to start working with Legendary Sports Bettor Jon Price
Fans will get a chance to enjoy watching last season's Super Bowl contestants—the Carolina Panthers and Denver Broncos–kick off the NFL season Thursday night in what some deem a rematch; a chance for the Panthers to exact some revenge—but not Cam Newton.
Carolina's quarterback and the reigning league MVP doesn't see it as a rematch. To him it's just the next game:
"A lot of people want to make it a rematch. It's not a rematch," Newton said Sunday, via the Associated Press. "It's just our next opponent."
Many are bound to take his comments as being flippant and condescending–like he's not taking the Denver Broncos seriously—but he's 100 percent correct.
Rematches involving the same two teams playing; not just in name, but with the same personnel. Both lost key players to free agency and retirement. How well they have replaced them will determine who wins the game—but since the teams are different, it isn't a true rematch.
But it should still be a heck of a game.
Carolina is favored by three heading into the game, and it is not hard to see why. The defense lost a couple of key people in Josh Norman and Charles Tillman, but it still has one of the fiercest front sevens in the game. They will look to put a ton of pressure on Broncos quarterback Trevor Siemian in an effort to rattle the first-time starter.
They got to Peyton Manning five times during the Super Bowl, but Siemian is a bit more athletic than Manning was last season. He will be able to evade pass rushers a little better than Manning did.
Cam Newton will look to build off of last season's success, and maybe even expand his game a little. The run will still be the driving force behind the Panthers offense, but with Kelvin Benjamin back, Carolina could potentially turn into a dangerous passing team as well.
However, the Denver defense is going to have something to say about that. The unit that decimated the Panthers offense during the Super Bowl has changed, but the key players are back—and much like in the Super Bowl, it will be impossible to stop them all.
In the end, the outcome of the game is going to come down to how three guys with one NFL snap between them play—Broncos quarterback Trevor Siemian (who has the one snap) and Panthers rookie defensive backs James Bradberry and Daryl Worley.
Usually, when an offense loses its quarterback, the unit takes a few steps back as the new one is tested and learns on the job. That will not be the case with the Broncos. While Peyton Manning will go down as one of the game's greatest quarterbacks, he was more of a game manager last season and not a game changer. He had enough in the tank to keep the team from losing, but not be what made it win.
Siemian is much more of an athlete and can make all the throws, but there is something to be said for experience—and he has none. Luckily, he will have a good offensive line protecting him, and a pair of rookie cornerbacks, James Bradberry and Daryl Worley, to contend with as he throws to two of the best wide receivers in the game, Demaryius Thomas and Emmanuel Sanders.
The question will be whether he has enough time to take advantage of Carolina's rookie cornerbacks. Gary Kubiak will likely try to get Denver's running game going behind C.J. Anderson in order to take some pressure off of Siemian. In the Super Bowl, Anderson was able to gain 90 yards on 23 carries. So it wasn't a great day, but it certainly wasn't a bad one.
Based on preseason play, it looks like Siemian may be more ready for primetime than the Panthers cornerbacks—but it was preseason play. Can Siemian do it while facing a fierce pass rush? Will the line give him enough time? Will Bradberry and Worley step up for the Panthers or will the make one of the best defenses in football vulnerable?
We can't know the answer to those questions until Thursday night, but we do know the Denver defense can shut down the Panthers offense and make the job a lot easier for Siemian. We also know the Denver offense doesn't need much from it quarterback to get the job done.
Can they get enough out Siemian? If that could be easily answered, watching the game Thursday night wouldn't be as much fun.