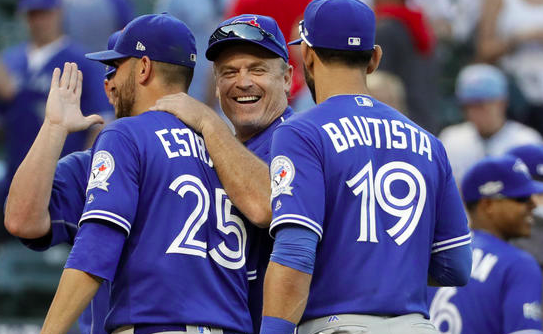 Posted on October 7, 2016 by Bryan Zarpentine
Game 1 of the ALDS did not go according to plan for the home team. The Texas Rangers, who finished the regular season with the best record in the American League, lost 10-1 to the Toronto Blue Jays to open up the Divisional Round of the playoffs. Texas now has a quick turnaround for Game 2, facing the Blue Jays on Friday afternoon in a game the Rangers must win to avoid going to Toronto down 2-0 in the series.
Defensive Issues
The Rangers committed just one error in Game 1, but several defensive miscues allowed the Blue Jays to score five runs in the 3rd inning and two more runs in the 4th inning to open up a big lead and cruise to victory. Adrian Beltre, Ian Desmond, and Jonathan Lucroy all had defensive lapses that cost the Rangers, and so defense is something to keep an eye on in this series moving forward. The issues from Beltre and Lucroy are likely to be blips on the radar, but Desmond was not a center fielder until this year, and so he doesn't always make plays that other center fielders may make, which was the case in Game 1.
Of course, Toronto isn't exactly filled with defensive wizards, particularly at the corner infield positions. However, with Jose Bautista at DH as he was in Game 1, the Blue Jays have Melvin Upton Jr., Kevin Pillar, and Ezekiel Carrera in the outfield, although Michael Saunders will likely start Game 2, helping them to cover an awful lot of space in the outfield, giving the Blue Jays a slight edge in terms of defense, which could turn out to be a critical advantage.
Sign up for a FREE Consultation to start working with Legendary Sports Bettor Jon Price
Pitching Matchup
The Rangers will send Yu Darvish to the mound in Game 2 for what is more or less a must-win game. Darvish is in his first season back after Tommy John surgery, and while he's had some setbacks along the way, he's held up well this year and should be in good shape to pitch on Friday. His only previous postseason start came in 2012, allowing three runs in 6.2 innings against the Baltimore Orioles, so he should not be fazed by the moment and will give the Rangers a chance to win.
As for the Blue Jays, they will send J.A. Happ to the mound in Game 2, fresh off a 20-win season. Happ was arguably Toronto's best pitcher this season, and so having him for Game 2 after winning Game 1 is a dream scenario. He allowed one run over seven innings when he faced the Ranges in early May, although the Texas lineup he'll face Friday is considerably different from that one. Of course, Happ got plenty of run support that day, which also helped his cause. He'll be hoping for similar run support in Game 2, although the Blue Jays having another 10-run outburst seems unlikely.
X-Factor
The bullpen could be an x-factor in Game 2, as the Rangers shouldn't expect more than six innings out of Darvish and may need to hold onto a lead late in the game. Alex Claudio is likely unavailable after pitching 3.2 innings on Thursday, while Texas may be hesitant to rely on Jake Diekman, who gave up three runs in an inning of work in Game 1. Who manager Jeff Banister will go to in the late innings in Game 2 will be an important decision. The Rangers should feel good about closer Sam Dyson, but getting to him could be adventurous.
For Toronto, there is still some uncertainty about the status of closer Roberto Osuna, who left Tuesday's wild card game with a shoulder issue. Of course, the Blue Jays only needed their bullpen to get two outs in Game 1, so they will be fresh and ready to go in Game 2, whether Osuna is available or not.
Prediction
The Rangers are listed as slight favorites to win Game 2, and that will hold true, as they are the more desperate team. Texas will wake up offensively, as Happ will have one of his worst outings of the season in his first postseason appearance since 2009. Darvish will control Toronto's lineup and the Texas bullpen will have enough of a cushion to close out a win, trying the series 1-1. Texas wins 7-4.