Raymond James Stadium
Tampa Bay Buccaneers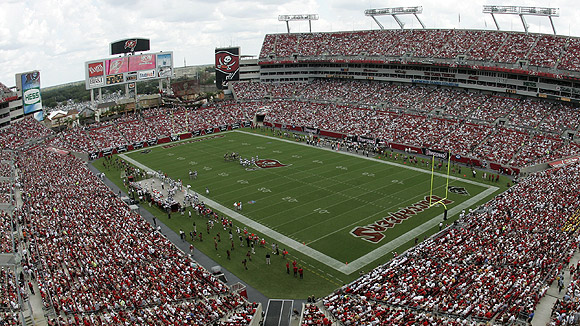 About Stadium
Raymond James Stadum is located in downtown Tampa Bay, Florida and is the home of the National Football League's Tampa Bay Buccaneers. Commonly referred to as "Ray Jay stadium," it seats 65,890 fans for game day, and can be expanded for special events up to 75,000.
At the request of Buccaneers owner Malcom Glazer, Raymond James Stadium was built to replace the the Bucs' old home field, Tampa Stadium. The project was publicly financed by the Tampa taxpayers, and reached a total price tag of $168.5 million.
The Buccaneers had sold-out every NFL game at the venue until 2010 when they failed to sell out any home game, and consequently, their games were blacked out to local fans on television.
Sign up for a FREE Consultation to start working with Legendary Sports Bettor Jon Price
It's the annual home of college football's postseason Outback Bowl which is played on New year's day each year, and it also features the annual USA equestrian show jumping called the Budweiser American Invitational. After the end of the NFL's season, the field also sometimes hosts the Monster Jam event, which is an event for monster truck racing and entertainment.
The stadium has noted two Super Bowls during its existence. The first being in 2001, Super Bowl XXXV, and again in 2009 when it hosted Super Bowl XLIII.
•Capacity: 65,890
•Opened: September 20, 1998
•Playing Surface: Tifway 419 Bermuda
•Location: 4201 N. Dale Mabry Highway,
Tampa, Florida 33607
History
• Ground was broken on the project on October 15, 1996, and was unveiled on Setpember 20, 1998 in an NFL game between the Tampa Bay Buccaneers and the Chicago Bears, with the Bucs winning the game 27-15.
• On January 28, 2001, the field played host to Super Bowl XXXV which matched up the Baltimore Ravens and their historically great defense, against the New York Giants. Baltimore won the game handily only allowing one score, which came on a kickoff return for a touchdown.
• The largest crowd ever recorded at the stadium for a sporting event was in a college football match-up between number #18 South Florida Bulls vs #5 ranked West Virginia Mountaineers with 67,018 fans in attendance. The record was topped five years later on September 29, 2012 when 69,383 watched a match-up between South Florida and Florida State.
• In 2008 and 2009, Raymond James Stadium played host to college football's ACC Championship Game.
• On February 1, 2009 the stadium hosted its second Super Bowl, which was between the Arizona Cardinals and the Pittsburgh Steelers in Super Bowl XLIII. It was one of the most competitive and close Super Bowls in the modern era, with Pittsburgh winning on a last minute touchdown catch by Santonio Holmes in the back corner of the end zone.
Past and Current Teams
Tampa Bay Buccaneers (NFL) (1998–present)
Tampa Bay Mutiny (MLS) (1999–2001)
USF Bulls (NCAA) (1998–present)