Rogers Centre

Toronto Blue Jays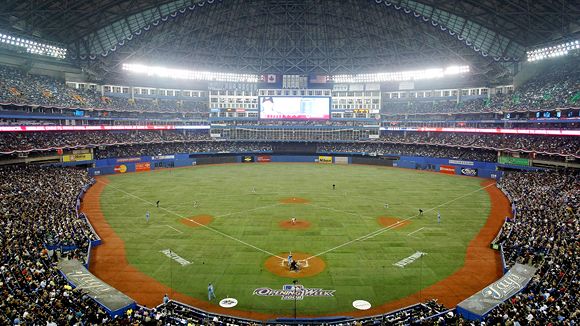 About Stadium
A closed dome stadium located in downtown Toronto, Ontario, Rogers Centre is home to Major League Baseball's Toronto Blue Jays.
Originally named the SkyDome when it opened back in 1989, the stadium used to be the home field for the Toronto Argonauts from the Canadian Football league, as well as the Toronto Raptors from the NBA.
In addition to hosting CFL, NBA, and MLB events, the stadium also played host to the Bills Toronto Series from 2008 to 2013.
Sign up for a FREE Consultation to start working with Legendary Sports Bettor Jon Price
Rogers Communication purchased the naming rights to the stadium in 2005 and promptly renamed the stadium to the Rogers Centre.
Its primary purpose is to house various professional sporting events, but it's also featured a number of other entertainment events throughout the years such as monster truck shows, conventions, and various music concerts.
• 1 Blue Jays Way
Toronto, Ontario M5V 1J1
• Capacity: 49,282
• Opened: June 3, 1989
History
• The stadium took just under three years to finish construction. Ground was broken on the project on October 3, 1986 with the first game being played there on June 3, 1989.
• The stadium was designed by architect Rod Robbie and constructed by the company EllisDon from London, Ontario with the final price tag topping off at $570 million, mostly paid by the federal government and the city of Toronto.
• The opening of the stadium was a highly publicized spectacle with the event being named "The Opening of SkyDome: A Celebration." It was broadcast across Ontario on CBC Television and hosted by famous TV personality, Brian Williams.
• Rogers Communication purchased the naming rights to the stadium in November 2004 for $25 million and renamed the stadium from SkyDome to the Rogers Centre on February 2, 2005.
Current and Past Teams
Toronto Blue Jays (MLB) (1989–present)
Toronto Argonauts (CFL) (1989–2015)
Toronto Raptors (NBA) (1995–1999)
Buffalo Bills (NFL) (2008–2013)
Toronto FC (MLS) (2012–present)