Posted on December 18, 2016, by Travis Pulver
Fans of the Miami Dolphins are going to be breathing a little easier for the next week. They knew Matt Moore didn't look half-bad five years ago, but there was no telling how he'd do for a full game before Saturday night's contest against the New York Jets. Would fans see the guy that was once voted team MVP or would he be just another backup quarterback?
As it turns out, he did just fine.
Moore completed only 12 of 18 passes, but the Dolphins offense made the most of them gaining 236 yards and scoring four touchdowns (he also threw one interception), a new career high. Two were just one-yard passes to Dion Sims, but the other two showed the Dolphins will still try to get vertical—a 52-yard pass to Kenny Stills and a 66-yard catch by Jarvis Landry.
Sign up for a FREE Consultation to start working with Legendary Sports Bettor Jon Price
However, to be fair, Landry did most of the work on his touchdown catch after catching the pass while running a short slant route.
"We started slow but got in the groove in the middle part. Once we got going, that negative stuff wore off, and I got on a roll. Credit these guys for getting us going and making plays. Once those guys got the ball in their hands, it was impressive," Moore told reporters after the game.
Miami's defense did its part to help out by harassing Bryce Petty all night long and doing anything they could to make his life more difficult—especially Cameron Wake. The veteran defensive lineman brought Petty back down to Earth after his first drive by causing a turnover on the next two, a fumble on a strip-sack and an interception.
Petty ended up going 20-36 for 235 yards, a touchdown, and a pair of interceptions before getting knocked out of the game in the fourth quarter on a fluke play. The center snapped the ball early, the guards and tackles didn't seem to notice, and the Dolphins defensive line came right through. Ndamukong Suh and Wake ended up meeting at Petty—and sandwiched him pretty hard.
Amazingly, Petty still completed the pass.
At first, the Jets said he merely had the wind knocked out of him, but then later announced he had a chest injury and x-rays were negative. Jets head coach Todd Bowles told reporters they would have Petty undergo further tests on Sunday.
Petty told reporters he just felt a little sore.
Ryan Fitzpatrick finished the game for the Jets but did nothing to earn the job back completing just five of ten passes for 31 yards along with another interception. If Petty ends up being injured enough to force him out of a game, it will be interesting to see if the Jets give rookie Christian Hackenberg a try rather than give the team back to Fitzpatrick.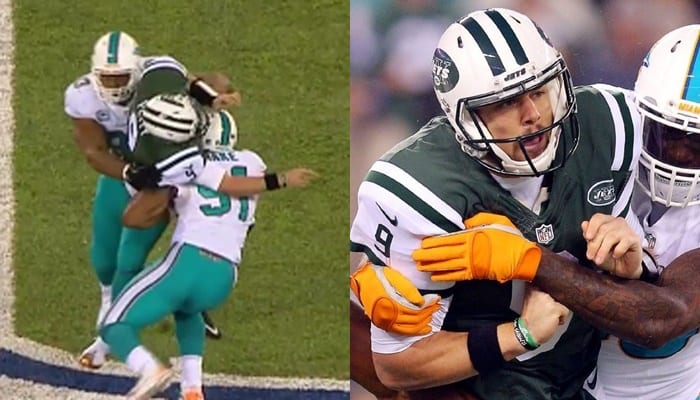 New York appeared to be in the game in the first half. The offense moved the ball well, thanks in large part to the efforts of running back Bilal Powell (113 of the Jets 225 total yards of offense in the first half).  Miami slowed him down in the second half, but he still finished the day with 162 total yards (84 rushing, 78 receiving).
But with the defense slacking off in the second half, the Dolphins defense stiffening up, and the special teams unit blocking an early second half punt for a touchdown, Powell's contribution was nowhere near enough.
With the win, the Dolphins move into the No. 6 seed in the AFC (for now). If Denver manages to beat New England, they will fall back into seventh place. But should Denver lose to New England, a win against Buffalo next week along with a little help from Kansas City (who will be hosting Denver) would lock up the No. 6 seed for Miami.