Soldier Field
Chicago Bears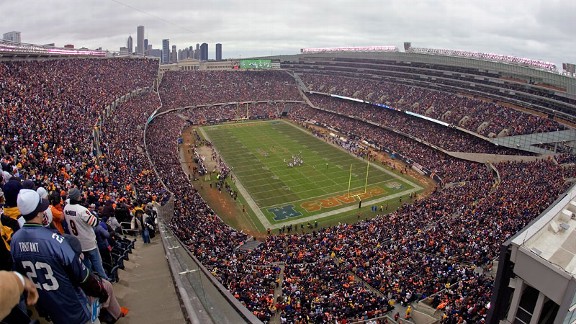 About Stadium
Located near the South Side of Chicago, Illinois, Soldier Field is home to the National Football League's Chicago Bears.
The stadium is one of the oldest in existence as it opened in 1924, but the Bears didn't start to play there till 1971.
In 2002, much of the stadium was demolished and rebuilt as apart of a major renovation project for the stadium to keep up with the standard of other NFL stadiums. However, these renovations caused the venue to lose its listing as a National Historic Landmark.
Sign up for a FREE Consultation to start working with Legendary Sports Bettor Jon Price
The field has hosted a number of other major sporting events throughout its history including the 1994 FIFA World Cup, the 1999 Women's FIFA World Cup, and it's also hosted the CONCACAF Gold Cup a number of times.
It seats only 61,500 fans which makes it the 3rd smallest stadium in the league, and was the oldest stadium in use by an NFL team until the LA Rams moved back to LA and will open the 2016 season at the Los Angeles Memorial Coliseum which opened in 1923.
•Capacity: 61,500
•Opened: October 9, 1924
•Playing Surface: Kentucky Bluegrass
•Location: 1410 S Museum Campus Drive,
Chicago, Illinois, U.S., 60605
History
• Construction on the stadium began back in 1919, and it was opened 5 years later on October 9, 1924, known as Municipal Grant Park Stadium, at the time. The name was later changed to Soldier Field on November 11, 1925.
• The original design of the stadium used plank seating, which were neither very comfortable nor did they hold up well to the harsh Chicago winters. In 1978 the plank seats were replaced by individual seat with their own backs and armrests.
• In 2001, the Chicago Park District announced plans to renovate the stadium to bring it up to standards with the times. This measure was met with much backlash from the public who viewed the stadium as an historic site. The plans were still completed in 2003, with some of the old stadium being demolished to make room for the improvements.
• As a result of the 2003 renovations, the stadium lost its listing as a National Historic Landmark on September 23, 2004.
Past and Current Teams
Notre Dame Fighting Irish football (NCAA) (1929)
Chicago Rockets/Hornets (AAFC) (1946–1949)
Chicago Cardinals (NFL) (1959)
UIC Chikas football (NCAA) (1966-1973)
Chicago Spurs (NPSL) (1967)
Chicago Owls (CFL) (1968-1969)
Chicago Bears (NFL) (1971–present)
Chicago Sting (NASL) (1975–1976)
Chicago Fire (WFL) (1974)
Chicago Winds (WFL) (1975)
Chicago Blitz (USFL) (1983–1984)
Chicago Fire (MLS) (1998–2001, 2003–2005)
Chicago Enforcers (XFL) (2001)