Posted on March 24, 2020, by Bryan Zarpentine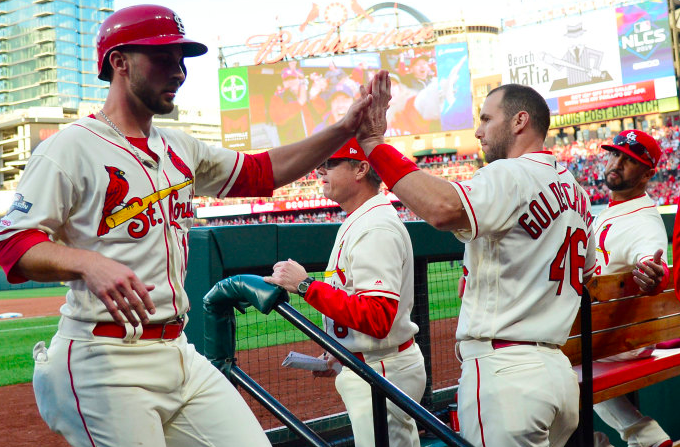 The St. Louis Cardinals reaching last year's NLCS was one of the most surprising outcomes of the 2019 MLB season. After a mini playoff drought, the St. Louis faithful were no doubt overjoyed to have October baseball again. However, the NL Central figures to be one of the most balanced divisions once again, so getting back to the postseason will be no easy task. Are the Cardinals good enough to win their second straight division title or are they too flawed to make noise in the National League?
Rotation
Once again, the St. Louis rotation has a chance to be one of the best in baseball. Jake Flaherty and Dakota Hudson looked like two of the most promising young aces in the league last season. If both can pitch anywhere close to the level they were at last season, the Cardinals will be just fine. The Red Birds also have a pair of reliable veterans in Miles Mikolas and Adam Wainwright. Mikolas was slowed during spring training but should be a solid mid-rotation starter once he returns. Wainwright, meanwhile, was surprisingly effective last year and appears to still have something left in the tank at age 38.
Sign up for a FREE Consultation to start working with Legendary Sports Bettor Jon Price
Despite losing Michael Wacha in free agency, the Cardinals should still have plenty of depth to fill out the back end of their rotation. Carlos Martinez spent last year in the bullpen, but he will have a chance to return to the rotation, where he excelled from 2015 to 2017. Also, Daniel Ponce de Leon has been a useful swingman over the past two seasons while South Korean transplant Kwong-Hyun Kim gives St. Louis another possible starter if they need him.
Bullpen
The Cardinals had a reliable set of relievers in 2019 and most return for the 2020 campaign. Of course, if Martinez returns to the rotation, the closer's job will be vacant with Jordan Hicks still working his way back from Tommy John surgery. Andrew Miller also has experience closing games if needed. Giovanny Gallegos could be another candidate for the job. Regardless of who closes games, the likes of Miller, Gallegos, John Brebbia, Tyler Webb, and John Gant will all be capable late-inning relievers.
Fortunately for St. Louis, the bullpen options don't end there. Ryan Helsley impressed as a rookie, posting a 2.95 ERA over 24 appearances. Alex Reyes is someone who should not be forgotten despite being limited by injuries the past couple of seasons. There's also a chance veteran Brett Cecil could bounce back from a disastrous 2019 season. Plus, if the rotation stays healthy, Ponce de Leon and Kim could be used in relief.
Lineup
Scoring runs was a struggle for the Cardinals for long stretches of 2019. With Marcell Ozuna signing elsewhere and no noteworthy replacement brought in, it could be a similar story in 2020. The good news is that Paul Goldschmidt will return to anchor the lineup. His numbers last year were a little disappointing, but he remains an impact offensive player. The Cardinals also got 30 home runs last year from Paul DeJong, although they need him to do better than a .233 batting average.
If the Cardinals are going to improve offensively, it'll have to come from their younger players. Harrison Bader and Tyler O'Neill will both have to prove they can be consistent run producers in the majors, as both have been highly-regarded prospects in the past. There isn't much depth in the outfield, at least among established players, so the pressure is squarely on Bader and O'Neill to be impact players. Tommy Edman will also have a chance to lock down the everyday job at third base. The Cards also need Kolten Wong to build on an impressive 2019 season. The addition of utility man Brad Miller should help, although the Cardinals could have more holes than he can fill if their young players don't come through for them.
Prediction
After winning 91 games and a division title in 2019, the Cardinals are projected to win 88.5 games in 2020. Obviously, that number could go down if MLB can't find a way to play 162 games after the coronavirus pandemic delayed the start of the season.
Pitching-wise, St. Louis is the envy of nearly every team in baseball. However, they've done little to improve a sluggish offense, which could hurt them in a division that promises to be even more competitive than it was a year ago. Look for the Cardinals to fall a little short of 88.5 wins or an adjusted win projection. Despite great pitching, St. Louis will struggle to keep up in the playoff hunt.