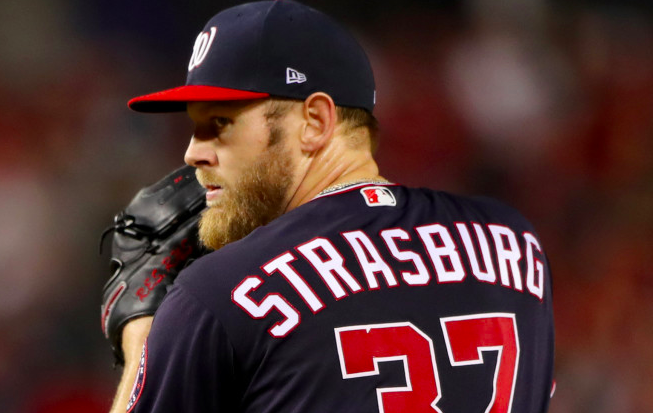 Posted on December 9, 2019, by Bryan Zarpentine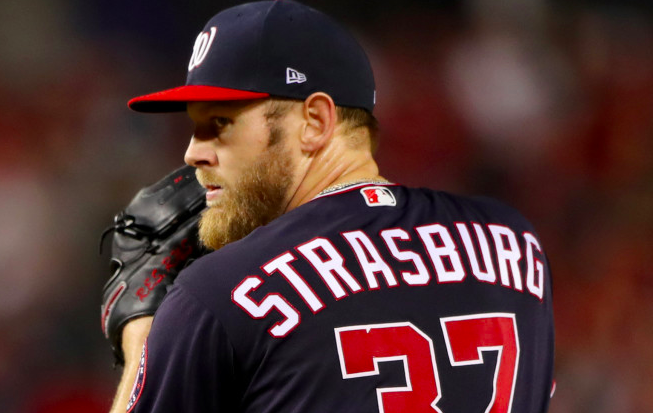 Despite opting out of his contract and hitting the free-agent market after the season, Stephen Strasburg isn't going anywhere. On Monday, the first day of the MLB Winter Meetings, Strasburg agreed to return to the Washington Nationals. Strasburg has re-signed with the only franchise he's ever known on a 7-year deal worth $245 million, keeping him with the Nationals through the 2026 season.
A year ago, it looked like Strasburg would stay locked into the final four years and $100 million left on the 7-year, $175 million extension he signed in 2016. However, that changed when he had arguably the best season of his career, going 18-6 with a 3.32 ERA over 33 starts during the regular season. Somehow, Strasburg saved his best for the postseason, going 5-0 with a 1.98 ERA over five starts and one relief appearance. He also took home World Series MVP honors.
After that kind of season, it was a no-brainer for Strasburg to opt-out of his contract and hit the open market in search of a better deal. That's exactly what happened, as Strasburg's new deal sets multiple records. The $245 million total tops the $217 million David Price received from the Red Sox for the largest contract ever signed by a pitcher. Strasburg's average salary of $35 million per year also tops the previous record $31.5 million of Zack Greinke's deal.
Sign up for a FREE Consultation to start working with Legendary Sports Bettor Jon Price
Obviously, other teams had interest in signing Strasburg once he hit the open market. But the Nationals made keeping him a top priority this offseason, even after losing Bryce Harper last winter and Anthony Rendon possibly signing elsewhere in free agency this offseason. The deal reportedly includes $80 million in deferred money that will come with interest. However, there are no opt-outs included while Strasburg has also been given a full no-trade clause. Those factors combined with the 7-year deal likely mean the 31-year-old Strasburg will end up spending his entire career with the Nationals.
On the field, re-signing Strasburg means the trio of aces in Washington's rotation will remain intact. Strasburg will continue to pitch alongside Max Scherzer and Patrick Corbin in arguably the best rotation trio in baseball. Those three were the biggest catalysts for the Nationals throughout 2019, especially during the playoffs. With all three being on the wrong side of 30, a drop-off in all three will likely come at some point. However, it should be a few years until there is a significant decline in Strasburg's performance. Until then, Washington's rotation will continue to make the Nationals a force to be reckoned with in the National League.
Of course, committing an average of $35 million per year to Strasburg could have ramifications for the Nationals elsewhere on their roster, even with deferrals. It now appears unlikely the Nats will be able to re-sign Rendon. Club officials have indicated that they would be unlikely to have the money to re-sign both players. Strasburg's new contract could also have an impact on Washington's ability to afford high-priced free agents in the years to come.
In the end, the Nationals are taking a calculated risk by giving Strasburg a record-setting contract. After earning World Series MVP honors, Strasburg has certainly earned a big payday. On the other hand, his age and history of arm trouble make him a little bit of a risk compared to some other pitchers. However, after the Nationals won the World Series in 2019, they surely have reason to be in a giving mood. More importantly, retaining Strasburg and keeping their rotation intact will give the Nationals an opportunity to remain a championship contender in the years to come.