Sun Life Stadium
Miami Dolphins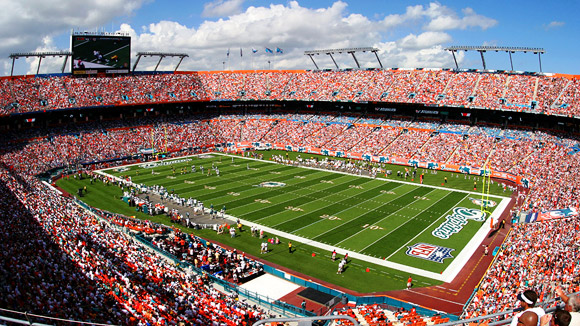 About Stadium
A multi-purpose stadium located in Miami, Florida, the stadium formerly known as Sun Life Stadium is home to the National Football League's Miami Dolphins and the college football team of nearby University of Miami Hurricanes. Sun Life's naming rights have expired in 2016, and the current name of the stadium is "New Miami Stadium."
The stadium has played host to a total of five NFL Super Bowls, two MLB World Series, and four college football BCS National Championships. The stadium is also in the running to receive the NFL's Super Bowl in 2019 and 2020.
Originally named Joe Robbie Stadium when it opened in 1987, the name has changed many times over the last few decades. Some of the other names were Pro Player Park, Land Shark Stadium, Dolphins Stadium, and most recently, Sun Life Stadium.
Sign up for a FREE Consultation to start working with Legendary Sports Bettor Jon Price
50% of the shares of the stadium were bought by Wayne Huizenga in 1990, and he led the charge to bring a Major League baseball team to South Florida. He later bought the remaining 50% of the stadium, making him full-owner on January 24, 1994.
•Capacity: 65,000
•Opened: August 16, 1987
•Playing Surface: Prescription Athletic Turf
•Location: 347 Don Shula Drive
Miami Gardens, Florida 33056
History
• On October 11, 1987 the Dolphins unveiled their new home field in impressive winning fashion as they defeated the Kansas City Chiefs by a score of 42-0. However, this game was played during the 1987 NFL Strike, so the teams were made up of replacements players.
• The Dolphins hosted their first Monday Night Football game there on December 7, 1987, with a win over division rival New York Jets by a score of 37-28.
• The list of Super Bowls played at the stadium: Super Bowl XXIII, Super Bowl XXIX, Super Bowl XXXIII, Super Bowl XLI, and Super Bowl XLIV. Two MLB World Series: 1997 and 2003. BCS Championship games: 2001, 2005, 2009, and 2013.
• In April of 2006, new renovations installed two Daktronics large video screens which were the largest in a sports stadium at the time of their completion.
Past and Current Teams
Miami Dolphins (NFL) (1987–present)
Florida Marlins (MLB) (1993–2011)
Florida Atlantic Owls (NCAA) (2001–2002)
Miami Hurricanes (NCAA) (2008–present)