Posted on October 30, 2016, by Travis Pulver
It must suck to be Dak Prescott right now. Yes, life must be good when you are the quarterback of the Dallas Cowboys–but he isn't. He is the man playing the position right now, but as soon as the team feels like they can do better with Tony Romo in the lineup he'll be back on the bench despite how well he has played this season.
Should that day come, any and every little thing he did wrong or less than perfect is going to be overly dissected in the media in an attempt to discredit him and make the decision appear to be the right one. So no matter what he does now, people are going to find a reason to say he sucks eventually.
Sign up for a FREE Consultation to start working with Legendary Sports Bettor Jon Price
Had the game ended with the Cowboys losing, things like the interception he threw in the end zone, his mid-game struggles, and stat line (19-39, 287 yards, two touchdowns, and an interception) would have been used to make him look like someone who belongs in Cleveland. But instead, he guided the team on a 12-play, 75-yard drive that ended with Jason Witten catching a touchdown pass from Prescott to give Dallas the win in overtime, 29-23.
It was not the prettiest game fans have seen Prescott play, but it did show them something they must be very happy about. Even when he is not playing his best, when it comes down to it, he can get the job done.
He can be clutch.
"It was 0-0 when we got the ball," Prescott said. "We have been great in the first few games of getting the ball first and scoring. That's kind of how I took it and thought of it. We got the ball and needed a touchdown."
It helped that the defense stepped up and make some big plays in the fourth quarter to help give Prescott the time he needed to dig the team out of a 23-13 hole. The unit has been much-maligned throughout the season, but it appears to have turned the corner the last few weeks.
Early in the fourth quarter, Tyrone Crawford recovered a fumble that led to a Dan Bailey field goal. Around the seven-minute mark, Sean Lee stuffed Darren Sproles so fast on a screen play it looked like he knew what the play was before Sproles did.
Then there was the hit by Orlando Scandrick on Carson Wentz that ended the Eagles final scoring drive in regulation. Wentz deserves a ton of credit for holding onto the ball while absorbing the blow Scandrick laid on him.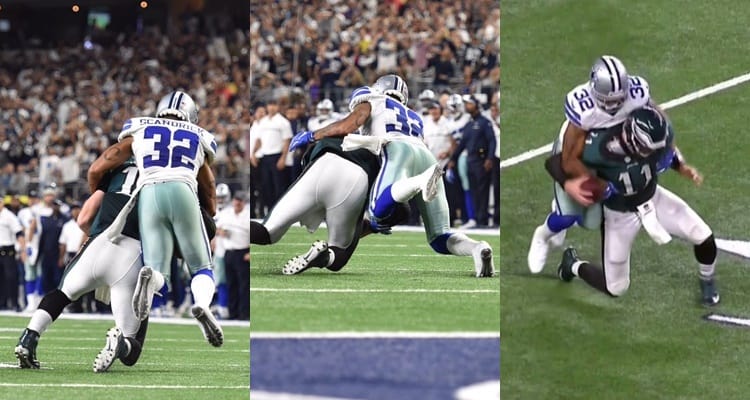 While it sucks to lose and fall two games behind the Cowboys in the division, the Eagles can take a few moral victories from the game. Ezekiel Elliot has been dominating games, and while he did have some big, key runs late in the game, they still held him to just 96 yards rushing on 22 carries.
Dallas wasn't the toughest defense they have seen this year, but the Eagles must be happy with how Carson Wentz bounced back after a dreadful day against the Minnesota Vikings last week. He completed 32 of 43 pass attempts, but since the majority were short throws—and the Cowboys tackled well—he only had 202 yards on the day.
But when you average throw is only 4.5 yards long and your yards/attempt 4.7 yards, what do you expect (ESPN)?
Wentz only has three interceptions on the season so it is not like Eagles head coach Doug Pederson must worry about him throwing picks. The play calling was probably in response to issues the Eagles receivers have had with drops. While there is a method to the madness, when he saw his guys were not breaking tackles enough to keep drives going, Pederson should have changed things up.
After the game he expressed a desire to be more aggressive—but this was more about reporters questioning him on some special teams decisions (PFT):
Why not go for a 54-yard field goal to extend the lead back to 10-points with 6:54 to play? Caleb Sturgis had made his last 17 attempts including a 55-yard one before halftime.
Why let the last :25 seconds tick away rather use your timeouts and force Dallas to punt? No one scores touchdowns on special teams quite like the Eagles do. So why not see if your guys can do it again?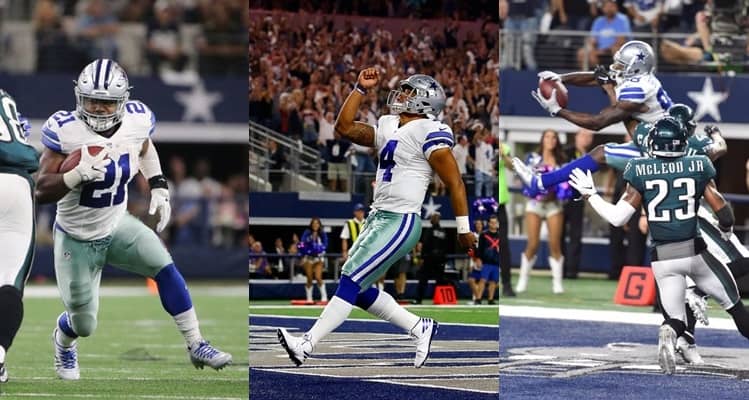 His response—he wanted to play field position and had already made up his mind to go to overtime with confidence in how well his defense was playing.
But then the defense couldn't stop Dak Prescott and Ezekiel Elliot and his offense never saw the field.
A rookie head coach is going to have growing pains just like a player.  Fans must hope he can figure a few things out before the team travels to New Jersey next week to play the New York Giants—who is the early betting favorite for the game.
The official word is that Tony Romo is not ready, but the win helped Dak Prescott get the nod to start against Cleveland next week. The win may have aided Prescott's chances of playing, but it appears to have cost the team a couple of defenders. Barry Church suffered a fractured forearm and Morris Claiborne may have a sports hernia.
The team has put Darren McFadden on the trade block and will likely look to get a defensive back for him.