Posted on March 20, 2020, by Bryan Zarpentine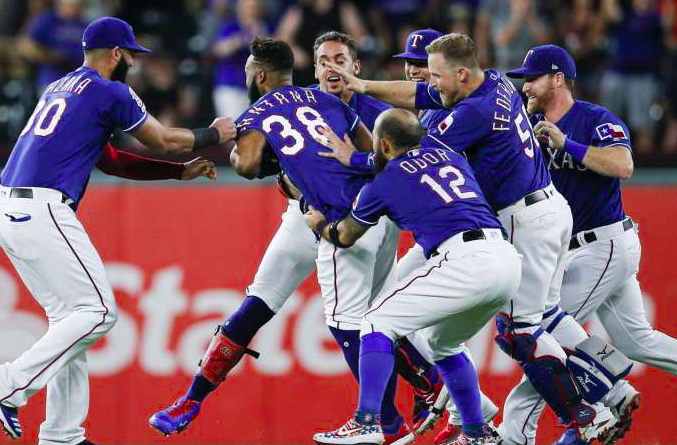 The 2020 season is an important one for the Texas Rangers, who are set to move into a new stadium. The franchise would like nothing more than to open the new stadium with a bang, especially after three straight seasons without making the playoffs. Does Texas have what it takes to be a legitimate contender in the American League this season or will fans in the new stadium have to sit through another losing campaign in 2020?
Rotation
There's a new ace in Arlington this year after the Rangers traded for Corey Kluber this past offseason. Of course, Kluber made just seven starts last year after breaking his arm in early May. However, he pitched at a Cy Young level for the five years before that, so he should be able to return to form. In support of Kluber, Texas also has Mike Minor and Lance Lynn. Neither has the name recognition of Kluber, but both were outstanding last season. If they can replicate their performance and Kluber comes back healthy, the Rangers could have one of the most formidable rotation trios in baseball.
The Rangers also made an effort to upgrade the back end of their rotation this winter. Kyle Gibson and Jordan Lyles may not strike fear into opponents, but both should be solid no. 4 and no. 5 starters to help the Rangers round out their rotation. Texas also has a healthy number of young arms that could fill vacancies in the rotation if they should pop up, including Kolby Allard, Ariel Jurado, and Yohander Mendez.
Bullpen
In the bullpen, Jose Leclerc has locked himself into the closer's role after saving 14 games last year. He wasn't at his best last season, but a 1.56 ERA in 2018 is evidence that he can be a lock-down closer. However, the setup men in front of Leclerc leave something to be desired. The Rangers relied a lot on Brett Martin and Jesse Chavez last year, although both were average at best. The hope is that Rafael Montero can continue to pitch the way he did after coming aboard last July and pitching to a 2.48 ERA.
Even if the likes of Montero, Martin, and Chavez can form a stable bridge to Leclerc, depth in the Texas bullpen could remain a problem. The additions of Nick Goody and Juan Nicasio should help. Luke Farrell and Joely Rodriguez also showed some promise last season. But there aren't too many relievers the Rangers know they can count on heading into the season.
Lineup
Texas has tried to shake up its lineup this winter, but success will depend on the team's veterans. Joey Gallo is a safe bet to anchor the lineup despite missing a lot of time due to injury last season. They also hope Shin-Soo Choo has at least one more good year in him as he ages. Meanwhile, the Rangers need the middle infield tandem of Elvis Andrus and Rougned Odor to perform better. While Odor hit 30 home runs last year, he also had a .205 batting average. Meanwhile, Andrus has seen his numbers take a significant tumble over the last two seasons, so the Rangers may need to have a Plan B at shortstop.
The good news for Texas is that the versatile Danny Santana had a breakout season in 2019. He's penciled in as the primary center field, but he has the versatility to play just about anywhere. The Rangers aren't sure what they'll get at first base from Ronald Guzman and Greg Bird, so Santana could be forced to move there if needed. Texas will also rely on young left fielder Willie Calhoun taking another step forward after a strong second half in 2019. The Rangers also brought in third baseman Todd Frazier and catcher Robinson Chirinos in free agency. Both should add a little power to the Texas lineup, although both are complementary players at this point in their careers. They can provide adequate depth, but it'll be up to Gallo, Choo, and Odor to take the lead.
Prediction
After winning 78 games in 2019, it could be more of the same for Texas in 2020 with a win projection of 79.5. Just keep in mind that win projection will likely go down if MLB is forced to shorten the season following the coronavirus pandemic.
The Rangers certainly made an effort to get better over the winter, but they did so in a cost-effective way. There are still holes on the roster and concern about the team's aging players. The starting rotation will be good, but not good enough to carry a flawed team. Look for the Rangers to come up a little short of any win projection in 2020, likely finishing fourth in the AL West and far from playoff contention.