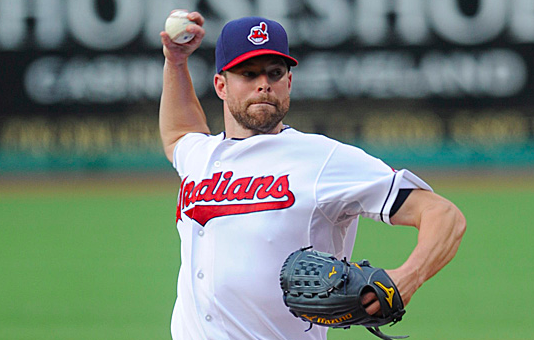 Posted on December 15, 2019, by Bryan Zarpentine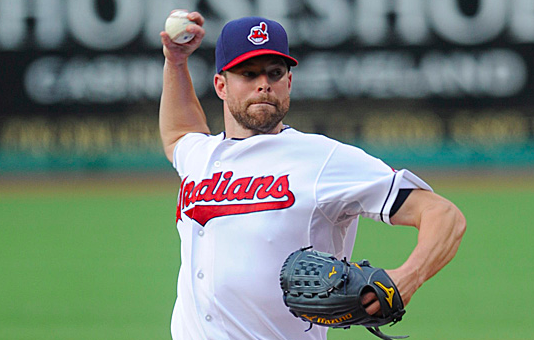 At the start of the offseason, the Texas Rangers set out to make a big splash this winter before moving into a new ballpark next year. Well, it's safe to say they've made that splash. On Sunday, the Rangers worked out a trade with the Cleveland Indians to acquire ace Corey Klubber. As part of the trade, the Indians will receive outfielder Delino DeShields Jr. and reliever Emmanuel Clase.
The 33-year-old Kluber is coming off an unusual season. He suffered a broken arm in early May and was never able to make it back before the end of the season after suffering an oblique injury during his rehab. Before the injury, Kluber got off to a slow start, going 2-3 with a 5.70 ERA, creating some level of uncertainty about whether he'll be able to bounce back quickly in 2020. Of course, Kluber is also a two-time Cy Young winner who won at least 18 games in four of the five seasons from 2014 to 2018. He also had an ERA under 3.00 in three of those five seasons.
Assuming Kluber has a return to form in 2020, the Rangers will look for him to lead their rotation. Texas has already made two notable signings to their starting rotation this offseason, signing both Kyle Gibson and Jordan Lyles. Of course, those two were seen as complementary pieces to Mike Minor and Lancy Lynn at the top of the rotation. Kluber will now be the ace of the staff, giving the Rangers five veteran and proven starters in their rotation. Such a rotation should be a big step up from last year's rotation while also allowing the Rangers to give some of their top pitching prospects more seasoning in the minors.
Sign up for a FREE Consultation to start working with Legendary Sports Bettor Jon Price
As for the Indians, they made a surprising playoff push this past season despite missing Kluber and other key starters. The emergence of pitchers like Mike Clevinger, Shane Bieber, and Zach Plesac has made Kluber somewhat expendable. Cleveland is also hoping to cut payroll this winter, which is why Kluber was available in the first place. While someone with Kluber's track record can be tough to replace, the Cleveland rotation is still in good shape without him.
Of course, the Indians also added pieces in this trade. DeShields is a speedy, defense-oriented center fielder who put together a decent offensive season in 2019. The Indians are lacking an established center fielder, making DeShields a potential fit. It's unclear how the Indians will put together their outfield in 2020 with many promising candidates but few proven options. However, with his speed and defensive prowess, DeShields should find a role.
In Clase, the Indians get an up and coming reliever. The 21-year-old had an impressive debut after being called up to the big leagues in August. In 21 appearances, Clase was 2-3 with a 2.31 ERA, recording four holds and one save. He has the potential to be an immediate contributor to the Cleveland bullpen in support of late-inning regulars Brad Hand and Adam Cimber.
Despite an ounce or two of uncertainty about Kluber's health coming off a lost season, this trade is a slam dunk for the Rangers. In terms of players, they paid a reasonable price for two years of Kluber. Texas now has the kind of rotation that will give them a fighting chance to compete in 2020. Of course, the Indians didn't too bad either. They gain some financial flexibility by trading Kluber's contract. The Indians also know they have the young arms to survive without him. On the surface, this move seems to indicate a rebuilding project on the horizon. But this trade shouldn't prevent the Indians from being a playoff contender next season.