Posted on November 11, 2016, by Travis Pulver
Earlier in the week, Cleveland Browns head coach Hue Jackson stated that his team would not go 0-16; that the Browns will win a game. There has been only one team in NFL history that failed to win a single game all season. It's safe to say that is not a club anyone wants to join and will be sufficient reason for Hue Jackson to be fired.
For a time, it looked like they might have a chance to get that elusive first win Thursday night against the Baltimore Ravens. Jackson's team wasn't playing great football, but when combined with the mistakes and poor play of the Ravens it resulted in a 7-6 halftime lead.
Sign up for a FREE Consultation to start working with Legendary Sports Bettor Jon Price
Could it happen finally? Could the circumstances be falling in place for Cleveland to win?
It appeared as if that may be the case, but then the offense went three and out on its first drive of the second half and the Ravens drove down the field with ease to score their first touchdown of the game and take a 13-7 lead.
It was at that point that Jackson over thought things. Rather than give his team a chance to respond, he decided to make a change. He decided to insert his third quarterback (Kevin Hogan made a brief appearance in the first half) of the game and bench Cody Kessler.
Why?
"You've got to try something different," Jackson said after the game. "And, being in the situation we are, why not try something different?"
He was tired of seeing all the missed plays and thought Josh McCown could provide a spark—which he did, but for the Ravens. McCown threw an interception on his first drive, had three turnovers in the half (two interceptions and a fumble), was sacked three times (Kessler was sacked once), completed just six of his 13 passes for 59 yards, and generated less than 40 yards of offense.
Kessler wasn't playing great, but he completed 11 of 18 passes for 91 yards and a touchdown. He hasn't thrown an interception in his last 118 attempts. In fact, his only interception as a pro came against Washington back in Week Three.
So you have an old quarterback that had thrown two interceptions in each of his other appearances and a young one that wasn't playing great but wasn't doing anything stupid with the ball either. Oh—and earlier in the week Jackson had claimed he would not play musical chairs with his quarterbacks.
But he said he didn't play musical chairs:
"I wasn't playing musical chairs today," Jackson said. "What I was trying to do was give our offense a chance to function at a faster rate."
How? McCown has been less accurate than Kessler this season (53.7 percent to 66.9) and is not getting the ball downfield any more than Kessler either. Kessler has averaged more yards per attempt than McCown (7.0 to 6.9). Yes, McCown is a veteran player, but because of that Jackson should have known what he would get when he inserted McCown.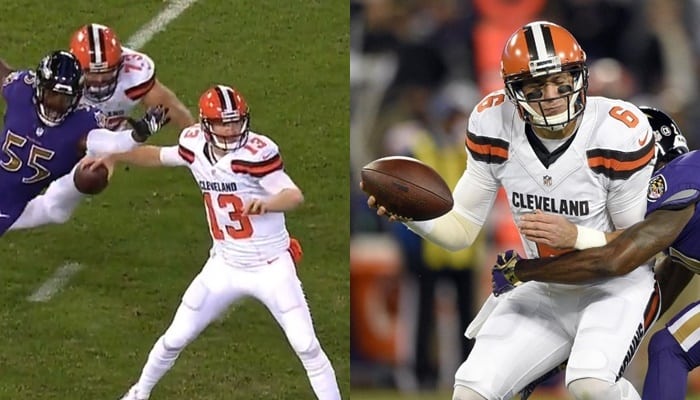 There was no reason to believe he'd get a faster, more efficient offense.
The move certainly sparked one quarterback—Joe Flacco. The Ravens QB went on the have three second-half touchdown passes to lead his team to a 28-7 win. Baltimore is now in sole possession of the AFC North lead. But they will have a tough time holding on to it with the Dallas Cowboys coming to town next week.
Jackson—well, Jackson probably hoped he could make history by guiding the much-beleaguered Browns out of the cellar and into relevancy, but he'll have to be satisfied with making history in a different way. This season is the first time since the Browns became a part of the NFL in 1950 that the team has started a season with 10 consecutive losses.
Should they lose to the Pittsburgh Steelers next week, he'll be the owner of another piece of Browns history. The franchise record will fall below .500 (currently 461-461-10) for the first time—ever.
The Browns have only beaten the Steelers five times since 1999 with the last coming in 2014; a 31-10 win at home on October 12.