Posted on November 15, 2016, by Travis Pulver
After the Carolina Panthers lost four in a row and five of their first six, many fans and media types were ready to write the defending NFC champions off. It wasn't hard to see why either. Cam Newton has not been playing like someone who won the MVP a season ago, and he isn't getting much help. It certainly hasn't helped that the team took a huge gamble on a young, inexperienced secondary–and the gamble hasn't paid off.
But at 3-6, their season is far from over. It may be on life-support, but there is still a chance the Panthers can make it back to the postseason. However, first, they must get by the New Orleans Saints this week on Thursday Night Football.
The Saints are likely going to be a little angry and feeling a little cheated after last week's game against the Denver Broncos. After tying the game up late in the fourth quarter, the Broncos blocked the extra point (after shoving the long snapper down and jumping over him), and returned the recovery for what ended up being the final two points of the game.
Sign up for a FREE Consultation to start working with Legendary Sports Bettor Jon Price
How were they cheated? Well—it looks like Broncos safety Will Parks may have stepped out of bounds during the run back. But to be fair, it is hard to tell since his shoes are white and so is the sideline.
It would have been a golden chance to gain some ground on the Atlanta Falcons (who lost to the Philadelphia Eagles). Instead, the Chiefs must hope they can gain some ground while sticking a fork in the Panthers—and there is little reason to think they can't do just that.
New Orleans got a good fight from the Panthers last time and will likely get an even better one this week. The Saints appeared to have the game well-in-hand last time after getting out to an early 21-0 lead. Carolina was eventually able to catch up and tie the game late in the fourth quarter at 38-38, but the Saints kicked the go-ahead field goal with 11 seconds to play to win 41-38.
Redemption would be nice for the Panthers, but they are going to be a little more focused on keeping their slim playoff hopes alive. To do so, they will need to do one thing—keep Drew Brees off the field.
During their Week Six game, Brees torched the Panthers for 465-yards and four touchdowns, and there is no reason to think this game will be any different. Carson Palmer lit them up for 363 yards and three touchdowns (one interception). Case Keenum even had a 296-yard day. They did manage to hold Alex Smith to just 178 yards last week but still lost to the Chiefs, 17-20.
To the Chiefs credit, the defense had a lot to do with the Panthers second half meltdown. Including forcing the Panthers to punt after a 20-play drive that took up most of the third quarter.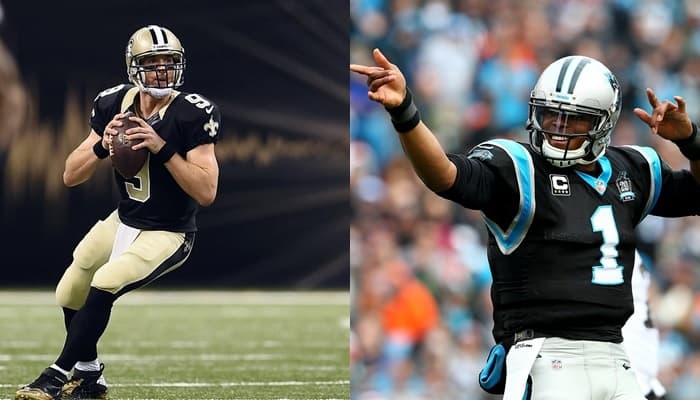 The New Orleans defense is nowhere near as good as Kansas City's, but it may be good enough to handle the Panthers. Carolina's run game is weak. Jonathan Stewart is not reliable which leaves Cam Newton to pick up the slack—which he can't. He's too concerned about getting hit these days.
To keep Drew Brees off the field, the Panthers need a clock-grinding, methodical running game—and they simply don't have it. Their passing game is not efficient enough to do the job.
Carolina's best bet to win would be to stop the Saints offense early, get out to a big lead, and force the Saints to play catch-up. If they can get out to a big enough lead, maybe they can hold the Saints off long enough to win.
However, while Cam Newton is a talented quarterback with some good weapons on his side, Drew Brees is a better quarterback with better weapons. Cam's fantasy owners will probably be happy with him at the end of the night, but Panthers fans—not so much.