U.S. Cellular Field

Chicago White Sox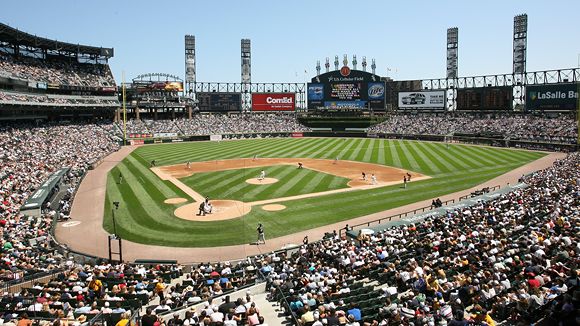 About Stadium
An open-air baseball park located on the South side of downtown Chicago, Illinois, U.S. Cellular Field is home to Major League Baseball's Chicago White Sox.
The stadium is operated by the White Sox franchise, but owned by the Sports Facilities Authority in Illinois.
The Chicago White Sox played their first 81 years in Chicago at Comiskey Park, ending their tenure at the park in 1991. However, despite changing stadiums, many fans and broadcasters still refer to the White Sox' home as Comiskey Park.
Sign up for a FREE Consultation to start working with Legendary Sports Bettor Jon Price
The spot of home plate from the old Comiskey Park is marked with a marble plague at its original location just outside of U.S. Cellular Field.
• 333 East 35th Street
Chicago, Illinois 60616
• Opened: April 18, 1991
• Capacity: 40,615
History
• U.S. Cellular Field was the first major sporting arena or stadium built in the Chicago area since Chicago Stadium was built back in 1929.
• Due to a number of complaints from White Sox fans, particularly about the height of the upper deck, the stadium underwent major renovations since the 2001 season. Along with adjustments to the stadium itself, the configuration of the field dimensions has also changed.
• Before the start of the 2016 MLB Regular Season, three HD video boards around the ring of the stadium, as well as centerfield where the main screen is affixed.
• The stadium was originally named after their old home field at Comiskey Park, but was later changed to U.S. Cellular Field in 2003 after the company U.S. Cellular purchased the rights for $68 million over 20 years.
• On August 25, 2016, the White Sox announced that they had reached a new naming rights agreement with Guaranteed Rate who will change the name of the stadium to "Guaranteed Rate Field."
Current and Past Teams
Chicago White Sox (MLB) (1991–present)