University of
Phoenix Stadium
Arizona Cardinals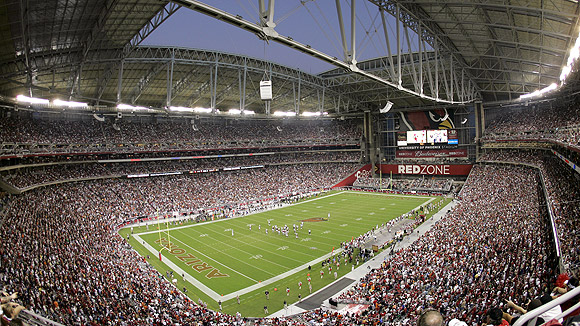 About Stadium
Located in Glendale, Arizona, University of Phoenix Stadium is a multi-purpose facility that is primarily the home of the National Football League's Arizona Cardinals. In addition to being the home of the Cardinals, it also hosts college football's annual postseason Fiesta Bowl.
The stadium originally opened under the name of Cardinals Stadium when it opened in 2006, and University of Phoenix, which is a corporate sponsor and not alluding to a home stadium of a university, purchased the naming rights to the field in September 2006.
The field in the stadium is very unique in that it is rolled inside the stadium for gamedays, and rolled outside when not in use. Along with the seemingly retractable field, the roof itself is also retractable.
Sign up for a FREE Consultation to start working with Legendary Sports Bettor Jon Price
The final price tag for the stadium was $455 million, which includes $17.8 million for the land purchased, and another $41.7 million for on-site improvements made.
It's been a popular choice for many major sporting events such as the 2007 and 2011 BCS National Championship Game, and the 2016 College Football national Championship Game. It's also hosted two Super Bowls in 2008 (XLII) and 2015 (XLIX).
•Capacity: 63,400
•Opened: August 1, 2006
•Playing Surface: Tifway 419 Hybrid Bermuda Grass
•Location:1 Cardinals Drive
Glendale, Arizona 85305
History
• The first NFL game held at the stadium was on August 12, 2006 during a preseason match-up between the Pittsburgh Steelers and the Arizona Cardinals. The Cardinals won the game by a score of 21-13.
• One of the most notable games at the stadium took place on October 16, 2006 when the Cardinals let up a huge 20-point lead in the second half to allow for the Chicago Bears to comeback and win the game. The game was followed by a memorable tirade by head coach Dennis Green in front of reporters. The Bears would later go on to play in Super Bowl XLI that year against the Colts.
• The attendance record for the stadium was made on January 11, 2011 for the BCS Championship Game which drew a crowd of 78,603 to watch the Oregon Ducks take on the Auburn Tigers.
• The most recent Super bowl played at the stadium was on February 1, 2015 for Super Bowl XLIX between the New England Patriots and the Seattle Seahawks. One of the most memorable Super Bowls in the modern era, which the Patriots won on a last minute interception at the goalie, as Seattle was threatening to go in for the go-ahead touchdown.
Past and Current Teams
Arizona Cardinals (NFL) (2006–present)