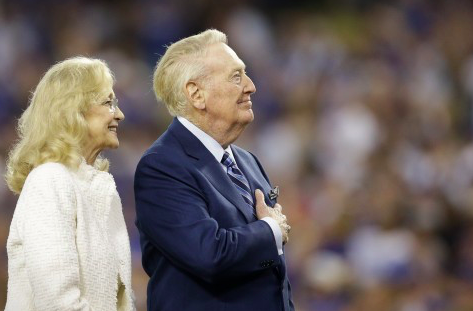 Posted on September 24, 2016 by Bryan Zarpentine
The Los Angeles Dodgers held an hour-long ceremony before Friday's game against the Colorado Rockies to honor legendary broadcaster Vin Scully. After 67 years with the Dodgers, both in Brooklyn and Los Angeles, Scully's career is coming to an end. He has not been with the team on the road this season, nor will he be broadcasting games in the postseason, meaning that Sunday's regular season home finale will be the final game of Scully's broadcasting career.
Earlier in the day, Scully wrote a heartfelt letter addressed to the fans. The first 50,000 fans through the gate at Friday's game in Los Angeles received a printed and signed copy of the letter, which is bound to become a valuable collector's item.
"Dear Friends," the letter began, "Many years ago, a little redhead boy was walking home from school, passing a Chinese laundry and stopped to see the score of a World Series Game posted in the window. The Yankees beat the Giants 18-4, on October 2, 1936. The boy's reaction was pity for the Giants and he became a rabid Giants' fan from that day forward, until the joyous moment when he was hired to broadcast Brooklyn Dodgers games in 1950. Ironically, October 2, 2016 will mark my final broadcast of a Giants-Dodgers game. It will also be exactly 80 years to the day since that little boy fell in love with baseball."
Sign up for a FREE Consultation to start working with Legendary Sports Bettor Jon Price
"Since 1958, you and I have grown up together through the good times and the bad," the letter continued. "The transistor radio is what bound us together. Were you at the Coliseum when we sang 'Happy Birthday' to an umpire? Were you among the crowd that groaned at one of my puns? Did you kindly laugh at one of my little jokes? Did I put you to sleep with the transistor radio tucked under your pillow?
"You were simply always there for me. I have always felt that I needed you more than you needed me and that holds true to this very day. I have been privileged to share in your passion and love for this great game.
"My family means everything to me and I will now be able to share life's experiences with them. My wife, Sandi, our children, Kevin, Todd, Erin, Kelly, and Catherine, along with our entire family will join me in sharing God's blessings of that precious gift of time.
"You folks have truly been "The Wind Beneath My Wings" and I thank you from the bottom of my heart for joining me on this incredible journey of 67 years of broadcasting Dodger baseball. Heartfelt Thanks, Vin Scully."
The list of speakers during Friday's ceremony included Los Angeles mayor Eric Garcetti, MLB Commissioner Rob Manfred, Dodger legend Sandy Koufax, current ace Clayton Kershaw, and actor Kevin Costner, who has starred in several famous baseball movies.
"We will miss you, my friend," Costner said. "We will miss you on our radio, in our cars and in our backyards. You have been a gift to Los Angeles and to baseball itself. How lucky we were that day in Brooklyn when the microphone was passed into your hands. You were the chosen one."
Fans also had a chance to vote on the most memorable call of Scully's distinguished career. The winner was Kirk Gibson's home run from Game 1 of the 1988 World Series. Gibson then appeared on the video board at Dodger Stadium, talking about how he was able to come to the plate despite Scully saying earlier on the broadcast that he wouldn't play.
Finally, Scully called for the game to begin. "It's time for Dodger baseball," he said, as only he can.