Posted on November 6, 2016, by Travis Pulver
Football fans in the Pacific Northwest were not happy when their undefeated Washington Huskies were left out of the initial top four of the College Football Playoff Poll. They couldn't believe Texas A&M was in front of them because of the strength of schedule. But then Mississippi State did them a huge favor by taking down the Aggies Saturday afternoon.
However, chances are good they are going to be just as disappointed when the next poll comes out. Yes, the Bulldogs opened a door for them, but it will be Ohio State walking through it—not the Huskies.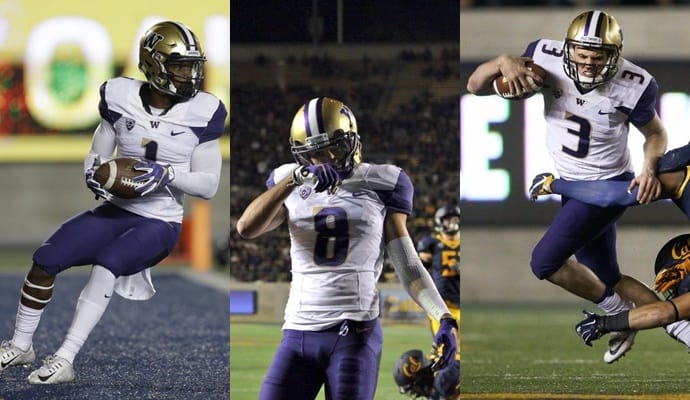 Sign up for a FREE Consultation to start working with Legendary Sports Bettor Jon Price
With the Pac-12 having a down year, they have no choice but to inflict as much damage as they can on their remaining opponents if they want to convince the Committee they are worthy. But while California was only 4-4 heading into Saturday night's game against Washington, the Golden Bears offense is a force to be reckoned with.
Cal has one of the best passers in the nation leading its offense in quarterback Davis Webb (No. 3, 352.9 yards/game). The Golden Bears have the No. 8 offense in the country powered by the No. 5 passing offense and the No. 82 running game. They can put up a lot of points quickly when Webb heats up–so Washington never let him.
Webb got the Golden Bears as close as 21-20 with a 14-yard touchdown pass to Chad Hansen early in the second quarter. However, when you have the 125th ranked defense like Cal, and you are playing the No. 2 scoring offense in the nation, you can't afford to make any mistakes—and Cal made plenty of them.
Webb through three interceptions in the second half leading to 17 points for Washington. The Cal defense had no answer for Huskies quarterback Jake Browning (19-28, 378 yards, six touchdowns) and couldn't cover either of his favorite receivers, John Ross III (six receptions, 208 yards, and three touchdowns) and Dante Pettis (eight receptions, 104 yards, three touchdowns) (ESPN).
The final score was just what the Huskies needed to flex their muscles for the Committee—66-27.
But there was one problem. The No. 6 team in the poll, Ohio State, had an even better win over a much better opponent, No. 10 Nebraska.
Penn State handed the Buckeyes their first loss of the season a couple of weeks ago. Wisconsin had put a serious scare into Ohio State the week before, and Northwestern gave the Buckeyes a good fight last week. With how they had played in all three games, an argument could be made that Ohio State's very young team had hit a wall; that Nebraska could bring Ohio State's playoff hopes to an end.
But then they played the game.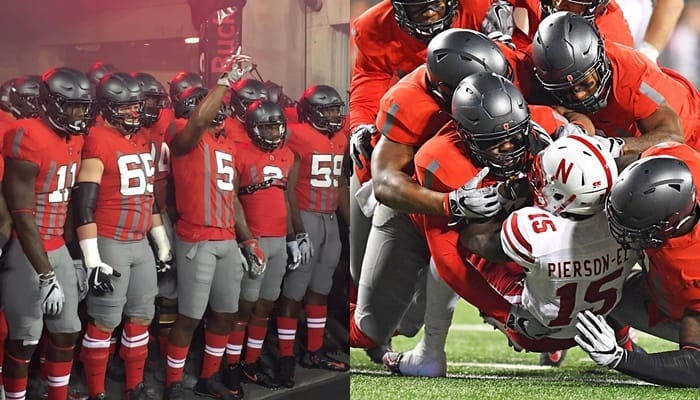 The game didn't get off to a good start for Nebraska and never got better. Tommy Armstrong Jr. threw an interception on the third play of the game—which Ohio State returned for a touchdown and a 7-0 lead. The Cornhuskers answered with a field goal, but then the Buckeyes responded with a score on every possession they had in the first half to take a 31-3 lead.
It didn't help when senior quarterback Tommy Armstrong Jr. was lost to an injury in the second quarter. He lost consciousness after a hit and had to be transported to the hospital for evaluation—but later rejoined the team on the field in the second half.
Ohio State ended up scoring on every offensive drive (except the final one of the game) as well as two of Nebraska's (interceptions returned for touchdowns) to blow Nebraska out, 62-3.
Generating 704 yards of offense and scoring 66 points like Washington did against Cal looks great, but producing 590 yards of offense and scoring 62 points against the No. 10 team in the nation looks a whole lot better.
Washington's best chance may be in hoping Clemson's schedule looks less impressive than their schedule does down the stretch. Otherwise, they may remain on the outside looking in when the regular season ends.