Posted on March 23, 2020, by Bryan Zarpentine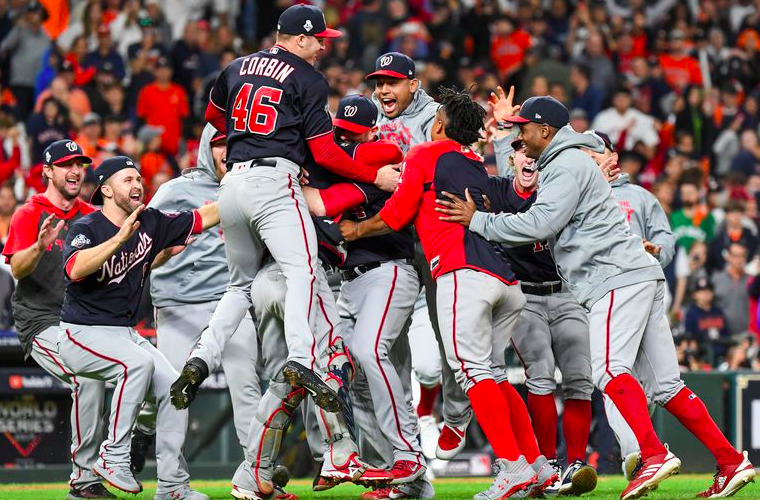 After settling for a Wild Card spot and barely winning the Wild Card, the Washington Nationals went on to win the World Series in 2019 for the first time in franchise history. Of course, now comes the hard part when they have to defend their title. Just getting to the playoffs out of the NL East will be no easy task, so the Nationals certainly have their work cut out for them in 2020. Does Washington have a chance to repeat as World Series champs or will last year's triumph be followed by disappointment?
Rotation
It took a massive amount of money, but the Nationals managed to re-sign World Series MVP Stephen Strasburg. By doing so, they've kept intact the trio of Strasburg, Max Scherzer, and Patrick Corbin that was the biggest reason why they won the World Series. Needless to say, having those three back is the biggest reason why the Nationals are a threat to repeat as champs. However, all three exerted great energy last October and bouncing back after a short offseason isn't a given. Plus, Scherzer is starting to show some signs of aging, so there could be a little more pressure on Strasburg and Corbin this year.
It's also important not to overlook the role that Anibal Sanchez played in Washington's success last year. He returns to the rotation this season, although he's also someone who could start showing signs of aging. Odds are, the Nationals will need some of their younger pitchers to provide depth in their rotation. Joe Ross has struggled with consistency the past few years, although Austin Voth and Erick Fedde both showed promise last year and could be ready to assert themselves as regulars in the Washington rotation.
Bullpen
The Nationals won the World Series last season despite having a leaky bullpen most of the season. However, they've taken several steps to fix that in 2020. Sean Doolittle remains the closer, and as long as he can stay healthy, the Nationals should feel good about him late in games. Washington also re-signed Daniel Hudson, who was vital last October, in addition to signing Will Harris to serve as the primary setup men for Doolittle. That trio might not be the best in baseball, but they should be a considerable upgrade from last season.
The rest of the bullpen isn't in terrible shape either. Roenias Elias and Wander Suero should be useful middle relievers while the Nationals remain high on Tailor Rainey. While it'd be a stretch to say that the Nationals will have an elite bullpen this season, it shouldn't be a glaring weakness as it was last year.
Lineup
A year ago, the Nationals scored the second-most runs in the National League despite losing Bryce Harper. This year, they have the challenge of having to replace Anthony Rendon in the middle of their lineup. That will put more pressure on Juan Soto, who was nearly as productive as Rendon last season. Meanwhile, Eric Thames was brought in to share first base with Ryan Zimmerman, which has a chance to be a productive platoon. The Nationals should also feel comfortable with Adam Eaton and Victor Robles being everyday players while the catcher tandem of Kurt Suzuki and Yan Gomes is also reliable on both sides of the ball.
Of course, the infield will be a work in progress with Rendon no longer at third base. Trea Turner will be the everyday shortstop and leadoff hitter. But the Nationals will look for some combination of Howie Kendrick, Starlin Castro, Asdrubal Cabrera, and Carter Kieboom to handle second base and third base. Exactly how that shakes out remains to be seen, but the team is high on Kieboom and the three veterans are all capable of contributing on a regular basis.
Prediction
The Nationals won 93 games during the regular season in 2019 before going on to win the World Series, but they are only projected to win 90.5 games in 2020. That number will be even lower if MLB has to adjust its schedule after suspending operations because of the coronavirus pandemic.
While they made some nice moves over the winter, replacing Rendon while having the pressure of defending their crown is a tough ask. Look for the Nationals to fall a little short of 90.5 wins this season. They'll be in the Wild Card race in September, but they'll run out of steam in the second half and come up a little short of returning to the postseason.