Posted on October 30, 2016, by Travis Pulver
There is always one weekend a season where it sucks to be an undefeated college football team. For some odd reason, when unbeaten teams suffer their first loss of the season they tend to do it in bunches. So when No. 10 West Virginia became the first to fall against Oklahoma State, it was inevitable there would be others.
Sure enough—No. 8 Baylor went down after they failed to slow down Texas running back D'Onta Foreman. No. 13 Boise State went down after Wyoming defense recorded a safety to give the Cowboys a 30-28 lead. Nebraska battled Wisconsin to a tie at the end of regulation, was thrown a lifeline when Wisconsin missed its extra point attempt after scoring a touchdown but then failed to score on their possession so down went the Nebraska Cornhuskers as well.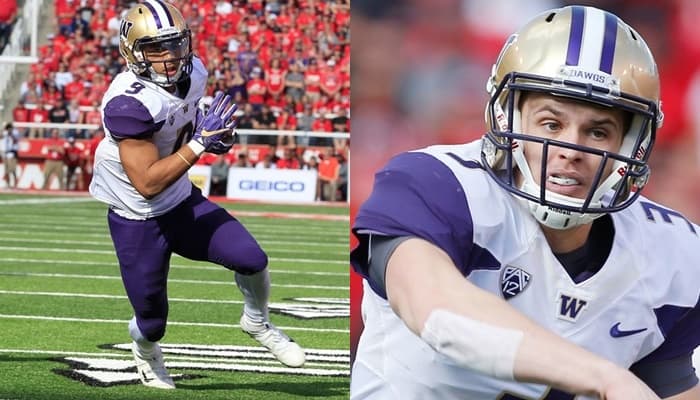 Sign up for a FREE Consultation to start working with Legendary Sports Bettor Jon Price
Michigan didn't have much trouble with Michigan State which left Washington and No. 3 Clemson (who was playing No. 12 Florida State Saturday night).
Life has been good for Washington head coach Chris Peterson in Seattle the last couple of seasons. His team won more than it lost and came into this season ranked No. 14 in the AP and with high expectations for themselves and quarterback Jake Browning. Fast forward to Saturday's game against No. 17 Utah and they were undefeated, No. 4in the nation, and Browning was being talked about as a Heisman candidate.
Life was indeed good–and the Utah Utes would have liked nothing more than to bring it all crashing down on them powered by a feel-good story of their own.
Senior running back Joe Williams entered the season as the guy for the Utes in the backfield. But then other guys played better, and the aches and pains were not worth it anymore, so he called it quits and retired after the second game of the season.
But then the Utah backfield was decimated by injuries, and they needed him—so he came back. What a comeback it has been! He powered the team past Oregon State with 179 yards and a touchdown. He followed that up with a 332 yard, four touchdown game against UCLA.
So going into Saturday's game against Washington he had to know he would be the focal point of the Utes offensive game plan. The best way to keep Jake Browning from working his magic would be to keep him off the field—and it nearly worked.
Williams helped his team control the ball for more than 33 minutes with had another banner day of 172 yards and a touchdown.  Jake Browning went 12-20 for 186 yards, two touchdowns, and an interception, but Washington's running game was happy to pick up the slack. Myles Gaskin and Lavon Coleman combined for 211 yards (Gaskin—19 carries, 151 yards, and a touchdown; Coleman—8 carries, 60 yards).
This was one of those rare games where both teams played well and it was almost a shame someone had to lose. When Utah tied the game up at 24-24 with a 24-yard touchdown pass from Troy Williams to Evan Moeai and then forced Washington to punt on its next possession, it appeared like the game was destined for overtime.
But then Washington did what good teams do—they found a way to win.
Utah had the ball at their one-yard line with 4:45 to play and three players later lined up to punt from the three-yard line.  Mitch Wishnowsky got off a nice 55-yard kick—that Dante Pettis was more than happy to return 58-yards for the go-ahead touchdown.
With the win, the Huskies stay alive for the Pac-12 title and college football playoffs but must face some good teams in the coming weeks that would be more than happy to end their dreams. Cal will not be an easy opponent next week. USC has been getting stronger with each week after a bad start to their season—and then there will be their big rivalry game against Washington State to end the regular season.
Utah is now on the outside looking in at the Pac-12 Championship game but will need to take down a very tough Colorado team in their regular season finale.