Posted on March 24, 2017, by Travis Pulver
They are as easy to hate as they are to love. They have annoyed and amazed us to no end. They have thrown incredible touchdown passes, made electrifying runs, and have done some infuriating things—and they are both hoping that an NFL team will give them a chance to earn a roster spot for next season.
But does anyone want the baggage that comes with signing Johhny Manziel or Colin Kaepernick?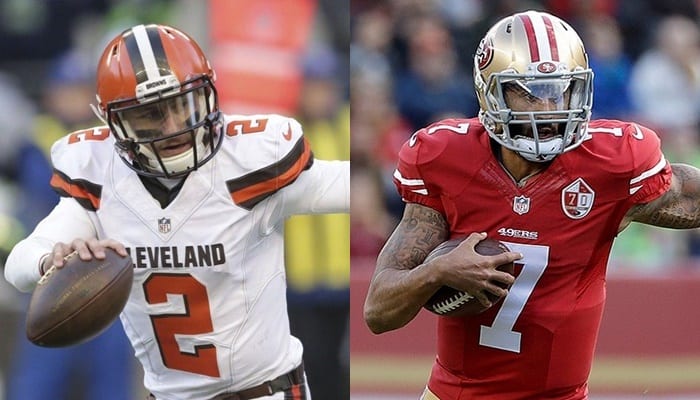 Sign up for a FREE Consultation to start working with Legendary Sports Bettor Jon Price
The answer to that is, of course, no but they will take it—under one condition. It's the same condition that made it possible for the Philadelphia Eagles to sign Michael Vick once he was released from prison. Here you had someone that was imprisoned for his role in a brutal dogfighting scandal. He got a job again for one reason–because he could help the team win games.
There will always be a percentage of NFL fans that will not like Manziel or Kaepernick. If a team is going to sign either, they will have to come to grips with the possibility of angering or even alienating those fans.
Manziel will have to move mountains to get many people to see him as some other than a waste of talent. Here's a guy from a wealthy family that had the chance to make millions playing a game. But he was more concerned with living the good life and partying his golden opportunity away. Sure enough–he played terrible once he got a chance to play. Once he became a PR nightmare as well, he was gone.
Moving mountains may not be enough for Kaepernick to change the hearts of some fans. It doesn't matter that he explained the meaning of his "protest" after the fact. Fans saw him do something that appeared to be disrespectful to the American flag—and hence the American way of life and American soldiers. For many fans, that made him the enemy for life.
It wouldn't matter how many times he explained his intention. His "protest" meant something different to them (that he hates America), so they hate him for doing it. They certainly don't want him as the quarterback for their football team—even if he is just a reserve like Vick was.
It doesn't matter that he has said he will be standing for the Anthem from now on. He did the "crime, " and now he has to do the "time." In this case, that means time in the unemployment line.
So far—according to the rumor mill—there really hasn't been any interest in Kaepernick. New 49ers general manager, John Lynch, has tried to claim that a team was interested in Kaepernick but for some unknown reason, the deal fell through.  Otherwise, no one has even kicked the tires on him and had him come in for a workout.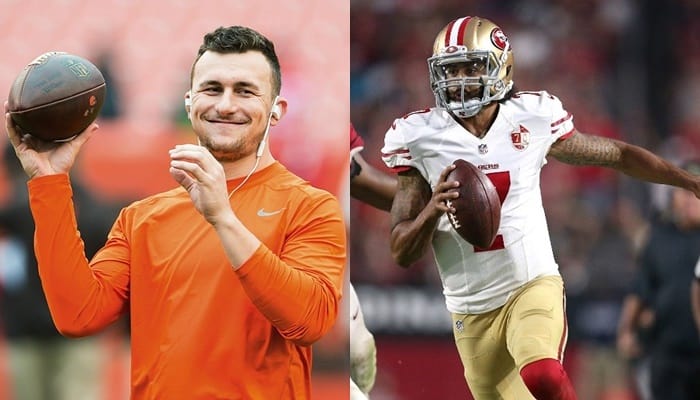 There hasn't been much said about Manziel either. Rumor has it that several teams expressed interest in him at the Combine. Manziel apparently had breakfast with New Orleans Saints head coach Sean Payton during Super Bowl week to discuss Manziel getting back into football. Payton could have talked about him joining the Saints, or he could have just talked to him in more of an adviser role.
Only Payton and Manziel know for sure what the discussion entailed.
When it comes to Manziel, any team that gives him a look is going to need to be convinced he isn't going to party away the opportunity they are giving him. He's claimed he was going to get his act together before. So why should they believe him now?
The fact that his former agent took him back will help, and some may see his getting engaged as a positive sign as well. Getting married certainly helped Ben Roethlisberger rehab his image after his alleged sexual assault scandal. Maybe it can do the same for Manziel.
But in the end, teams will not know for certain until they sign him. But will anyone sign him or Kaepernick?
Chances are—yes. Both players will end up on someone's roster when training camp starts. With the right team around him and the right coach, Kaepernick could probably thrive once again. Maybe if Manziel gets with the right team, the guy that dazzled fans at Texas A&M will return.
But who will be first? Well—whoever has a team offer him a contract he's willing to accept. Manziel has to know he will not see anything other than league minimum. The same will be true for Kaepernick too, but since he has made a ton of money in the past, he may be foolish enough to hold out for more money.
So—if you are a betting man, put your money on Johnny Manziel to get back to work before Colin Kaepernick.