Posted on June 17, 2017, by Travis Pulver
Finding a franchise quarterback is tough—just ask the Cleveland Browns. But having one can mean more than just winning and losing. It can mean the difference between winning a division title and playoff berth and watching the game from home during the postseason. So—more often than not, when a team finds such a guy, they do whatever it takes to hold onto him.
In the NFL world, that means you pay him—a lot. If the Washington Redskins, Detroit Lions, and Oakland (or is it Las Vegas?) Raiders want to keep their quarterbacks, they are going to have to pay.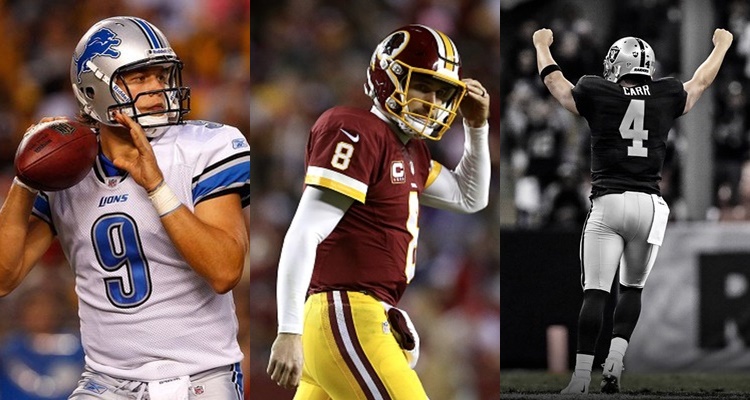 Sign up for a FREE Consultation to start working with Legendary Sports Bettor Jon Price
The question is—how much.
Each has a legitimate NFL-caliber starting quarterback. Matthew Stafford has been that guy for the Lions. Kirk Cousins appears to be the man for the Redskins, and Derek Carr has been doing a fine job in Oakland.
They are not transition quarterbacks to help the team get by until they find their next superstar. They are franchise players that are worth the hefty salaries they are about to command. Each is set to become an unrestricted free agent following the 2017 season.
Crazy as it may sound, each one could get somewhere in the range of $25 million a season when they sign their new deals.
Each would like to sign an extension before training camp starts this year. But it remains to be seen if any of the three will. There has been positive, encouraging talk about all three but no definitive signs that an agreement is imminent with anyone.
While no one will likely ever admit it, chances are part of the problem could be that no one wants to sign first and be the guy that sets the market. That means he'll get paid less than the other two.
But what does it matter? Either way, all three will be getting paid very well. For some guys. It is a question of respect and a sense of being valued according to their contribution to the team. Others want to make as much as they can while they can.
Some want to be paid but want to have a competitive team, so they take a little less.
So—who gets paid more? Whoever signs first is expected to be the first quarterback to average $25 million a season (Andrew Luck has the current high at $24.59 million). Whichever player signs last will likely be paid more, so who signs last?
If you are a gambling man, put your money on Cousins to sign last. Yes, there is a July 15 deadline for him to sign a new long-term deal thanks to the franchise tag, but don't expect a deal to be done in time. The Redskins tried to low-ball him last year, and while no numbers have been rumored, they may be trying to do it again despite Cousins having another strong year.
How can we surmise this? It sounds like newly promoted senior vice president of player personnel is trying to use the 'we are built to win now' argument with Cousins:
"All I can do is hope and pray that Kirk looks at the big picture and looks at this football team and realizes we do have a solid football team, solid offensive line. He's got something to work with," Williams said on NFL Network.
But Cousins is not foolish. He knows that he holds all the cards. He has proven himself to be a very capable quarterback. If the Redskins don't think so, other teams do. If the Redskins don't sign him, they may have to franchise tag him again to make sure they can keep him. Otherwise, someone (i.e. Kyle Shanahan) will make him an offer he can live with accepting.
Should they franchise tag him for a third season, they'll owe him around $35 million (guaranteed). It is hard to imagine any team being willing (or stupid enough) to do that.
So—the Redskins will eventually bite the bullet and pay Cousins a ridiculously high salary. It will not be shocking if they don't do so until after the season and Cousins excels once again despite losing his top two wide receivers in free agency. If that doesn't convince them to make him an offer he can't refuse, nothing will.