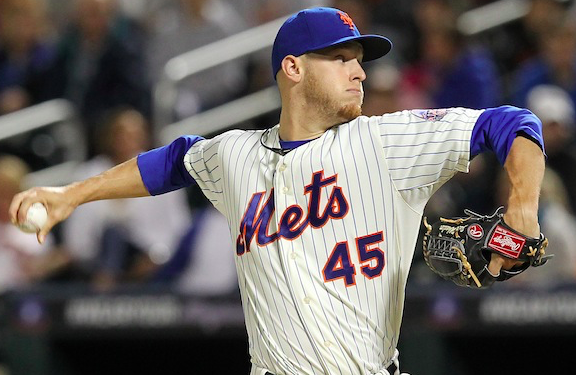 Posted on December 4, 2019, by Bryan Zarpentine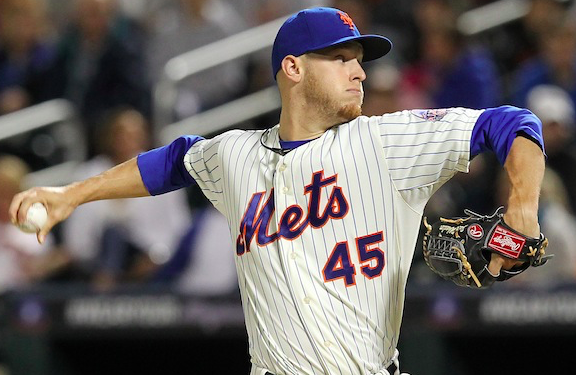 The first truly big fish of the MLB offseason has been caught. The Philadelphia Phillies have landed starting pitcher Zack Wheeler, agreeing to sign him to a five-year deal worth $118 million. Wheeler was the top pitcher on the market this winter outside of Gerrit Cole and Stephen Strasburg. He will remain in the NL East after spending his entire big league career with the Mets.
There was no shortage of competition for Wheeler's signature, even with Cole and Strasburg still available. Early reports indicate that at least half a dozen teams made a serious run at signing Wheeler. In fact, the White Sox reportedly made an offer that exceeded the $118 million deal that Wheeler got from the Phillies. However, Wheeler preferred to stay on the East Coast, as his wife's family is from New Jersey, not far from Philadelphia. That appears to have pushed the Phillies over the edge in the Wheeler sweepstakes.
The 29-year-old Wheeler could be considered a little bit of a late-bloomer. He was the sixth-overall pick in the 2009 draft but often battled arm problems early in his career. Wheeler ended up missing both the 2015 and 2016 seasons after undergoing Tommy John surgery. More arm issues limited him to just 17 starts and a 5.21 ERA in 2017. However, Wheeler finally started to come into his own and reach his potential the past two seasons. In 2018, he was 12-7 with a 3.31 ERA in 29 starts and went 11-8 with a 3.96 ERA over 31 starts this past season.
Sign up for a FREE Consultation to start working with Legendary Sports Bettor Jon Price
On his day, Wheeler can pitch like a bonafide ace capable of dominating big league lineups. Over the past two seasons, he has seemingly gotten stronger as the season goes along, posting much better numbers after the all-star break. The Phillies are also banking that Wheeler's best years are still ahead of him after he started to find more consistent success the past two seasons.
In Philadelphia, Wheeler figures to slot in behind incumbent ace Aaron Nola. It's also best not to forget that the Phillies also have Jake Arrieta. While Arrieta will have some health questions heading into 2020 after cutting his season short in 2019 to undergo surgery to address bone spurs in his elbow, he's still capable of pitching like a frontline starter when he's healthy. The trio of Nola, Wheeler, and Arrieta may not be the best in baseball, but it's a formidable group that will help the Phillies to match up better against some of the top rotations in baseball.
To be fair, the back end of the Philadelphia rotation still has some concerns. Vince Velasquez, Nick Pivetta, and Zach Eflin all struggled to some extent in 2019. Eflin was surely the most serviceable, but with the uncertainty surrounding Arrieta, the Phillies will need more out of both Velasquez and Pivetta in 2020. Of course, adding Wheeler should help take some of the pressure off the no. 4 and no. 5 spots in Philadelphia's rotation.
It's fair to say that the price the Phillies paid to sign Wheeler was a little steep. After all, he does have a long history of injuries, even if he has put those problems behind him the past two seasons. However, the upside is undoubtedly there and Wheeler has proven over the last two seasons that he can be a frontline starter. More importantly, after the problems the Phillies had with their starting rotation last season, they had to make a big splash. There's no question that adding Wheeler to their rotation puts the Phillies in a better position to reach the postseason in 2020 and put a disappointing 2019 season behind them.